Structural Fire: Codes and Standards--Oh, My!
By Mark Gorman, National Operations Program Manager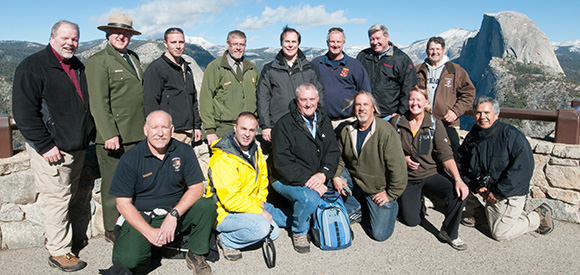 NPS structural fire program managers in the various regions have taken different tacks to strengthen fire prevention and education programs, including training that targets the protection of cultural resources and museum collections, training for park structural fire coordinators, force multipliers (training volunteers and park fire chiefs), structural fire management plans, and program evaluations.
The next time you go out to lunch with a regional structural fire program manager, see what catches your eye as you walk into the restaurant: the menu, the line of patrons, or the televisions mounted on the wall? Now, ask fire managers what they see, and they will paint a completely different picture. Right away, they will begin a discussion on the sprinkler system, the location of exit signs, patron capacity, and the perceived effectiveness of the smoke detectors. In short, you might not get another word in for the rest of the meal. Doesn't sound like fun? On the contrary, hanging out with someone who is always looking out for your safety isn't such a bad thing.
Horrific structural fire events such as Coconut Grove, Iroquois Theater, Our Lady of the Angels, and the Station Nightclub have led the United States to develop laws, codes, and standards to protect all of us from fire. Municipalities began hiring fire professionals whose only job was to enforce these codes and work with plans, contractors, and designers to ensure proper installation of fire protection systems in buildings. It should be no surprise as the third largest owner of buildings within the federal government that the NPS would seek the establishment of its own core group of fire professionals. Today many of them are your very own regional structural fire program managers.
These dedicated professionals immerse themselves in the enforcement and application of building and fire codes, not only for newly constructed buildings, but also for alterations or renovations to existing buildings and structures. They assist with the maintenance, use, and installation of fire sprinkler and alarm systems and conduct rigorous final acceptance tests for all newly installed systems to ensure that they perform as designed. Here is just a short list of some of their most recent projects and accomplishments:
There is no doubt that training has to be a critical component of any program. "In all my years within the fire service and the NPS, prevention through education is the principle foundation," reports Northeast Region's (NER) Structural Fire Program Manager Joe Mazzeo. Following that driving principle, NER has implemented monthly "lessons learned" stories that are shared with all of the park structural fire coordinators in the region. To learn more, visit the Northeast Region SharePoint site [website for internal use only].
Using training as the focal point for change, the Pacific West Region (PWR) has launched an ambitious program to get all of their park structural fire coordinators (PSFC) through a 24-hour PSFC class this year. This initiative is to help coordinators know their responsibilities related to structural fire, develop awareness to basic standards, and establish contacts so that when problems or questions arise, they know who to talk to.
Likewise, the Intermountain Region (IMR) is developing a training program that targets the protection of cultural resources and museum collections. The region has also partnered with Grand Canyon National Park for the development and circulation of a "fire warden" program to improve park compliance with fire extinguisher inspection and building evacuation. "When parks have well trained employees, they increase safety, improve communication, increase workplace efficiency, and boost employee retention," reports IMR Structural Fire Program Manager Todd Neitzel.
Ever try to dig a hole with your hands? It's slow work. By grabbing a shovel or using a tractor, the task can be accomplished with dramatically greater effectiveness. This is called a force multiplier. One of the greatest challenges facing regional structural fire program managers is the lack of knowledgeable staff. To overcome this challenge and to dramatically increase effectiveness, a number of regional offices have created their own force multipliers. IMR has lead the way by developing a network of volunteers and utilizing the skills and knowledge of designated park fire chiefs to help support nearby parks with project review and acceptance. Another success is collaboration with risk management and the use of zone safety officers to support structural fire programs. Creative approaches like these can extend well into the future as the people who participate become more connected with the program and the parks and become more committed to long-term business principles and practices. As Todd Neitzel reports, "I cannot keep up with all of the project work without becoming creative; the use of force multipliers has become essential."
Director Jarvis has clearly stated that "life safety is, and will at all times, be the first priority in all structural fire management activities." Making this a reality doesn't mean buying a fire engine for every park, but rather the development, implementation, and enforcement of a structural fire management plan tailored to the needs of each park. This year, the Alaska and Northeast regions were the first to ensure that every site had an approved and functional plan.
Some regions have even taken it a step further and have begun going out to the parks and conducting program evaluations. Program evaluations are required by policy, but they have been found to be a critical tool to ensure that plans are living documents and that a park is actually doing what they say they are doing. IMR has developed a methodical examination and review process that is becoming the template for a national evaluation program still under development. One regional fire program manager stated "getting out to the parks, offering solutions, and working with park managers is one of the best things about program reviews."
So, let's be frank, is complying with codes and standards a challenge? You bet it is. It takes time, money, and a specific skill set. Do you see all of these codes as something important and reasonable, or as nothing more than an obstacle to go around rather than comply with? Remember that nearly all of these codes and standards were developed following some tragic event. Remember the Station Nightclub fire? The club owner and band manager were charged with 100 counts of criminal-negligence and manslaughter; both were convicted and sentenced to 15 years in prison.
So the next time you see a regional structural fire manager, say thank you, and maybe ask them out for lunch. If you do, don't be surprised if they choose a table near an exit, and if you ask them why, you might not get more than one word in from that moment on. But listen closely to what they have to say. They just might point out something that could save your life or the life of a family member someday.
Last updated: September 12, 2016