Fire Prevention 52: Vehicle Fires
By Eric Anderson, National Structural Fire Training Specialist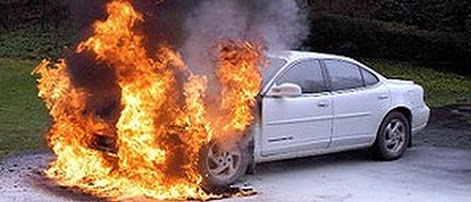 This year, thousands of cars, trucks, buses, and recreational vehicles will come through the parks each day. Most of us will drive to work, and use vehicles when performing our jobs.
The National Fire Protection Association (NFPA) reports that approximately 184,500 vehicle fires occurred in the U.S. in 2010. These fires caused 285 deaths and 1,440 injuries, and cost $1 billion in losses. Many of these injuries and deaths were the result of people going back to the vehicle to retrieve items left inside.
No one should approach a burning vehicle, because these fires pose a serious threat of injury or death. Hazards associated with vehicle fires include intense heat and flames; exploding tires, batteries, hydraulic pistons, and bumpers; melting plastic; release or ignition of gas, oil, and acid... just to list a few. The smoke and fumes released from a burning vehicle are extremely hazardous, which is why firefighters always use self-contained breathing apparatus (SCBA) while working around burning vehicles.
It Really Can Happen to You
A park ranger reported that the emergency lights were not always functioning properly on his patrol vehicle. Soon after, when the ranger arrived at an accident scene, he parked his vehicle and turned on the warning lights. When the ranger returned to the vehicle, he found the lights no longer on and a distinct burning odor coming from the car. An inspection revealed a melted fuse on the wiring within the passenger compartment, which had come dangerously close to igniting a fire in the vehicle.
Fire Info for You
EMPLOYEES
Learn more about vehicle fires, how to prevent them, and what to do if they happen from the National Fire Protection Association.
PARK LEADERSHIP
Approximately 75% of vehicle fires are the result of mechanical or electrical failures or malfunctions. Ensuring that our vehicle fleet is properly maintained and inspected by qualified mechanics at least yearly can help detect problems or recall issues before they cause a fire.
Due to the risks associated with suppressing vehicle fires, those parks with engine companies must ensure that their structural firefighters are current with their training and are using appropriate personal protective equipment. Those who are not specifically trained and equipped should not attempt to fight any vehicle fire. Refer to RM-58 for guidance.
REGIONAL/NATIONAL LEADERSHIP
Ensure that our vehicle fleet is properly maintained, that all employees are aware of their responsibilities and limitations when it comes to fire response. Continued support of engine companies and firefighter training are necessary to ensure safe and timely response to these fires.
Take Action
Ensure that the vehicle you drive has undergone regular inspections and is in proper working order. Check for any fluid leaks, cracked or blistered hoses, loose wiring, or wires with exposed metal. If any are discovered, immediately report to the appropriate person or department.
Park rangers, firefighters, EMTs and anyone else who may respond to a vehicle fire should take 3 minutes to watch this PowerPoint
NPS Fire Facts
Vehicle fires are the most common fire event within the National Park System, comprising approximately 30% of all fires.
Vehicle fires can easily expand into surrounding wildland and urban areas. The potential for fatalities, injuries, loss of historic structures, and loss of property is a very real threat from vehicle fires.
A classic 1964 Cobra caught fire in Zion NP's Mount Carmel tunnel in May 2012. The car, valued at over $800,000, was a complete loss.
Last updated: December 1, 2016