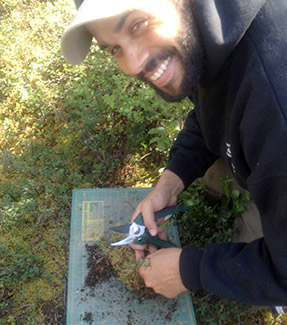 The amount of moisture in various types of vegetation can help fire managers determine if a fire is likely to start and how it might behave once ignited. Fuel moisture strongly influences fire ignition potential and flammability. The drier the fuels, the easier they are to burn.

Fuel moisture is an essential part of a system of indices that fire managers in Alaska (AK) rely on to estimate fire danger. The Canadian Forest Fire Danger Rating System (CFFDRS) represents moss and duff fuel moisture and is calculated from weather data. Fuel moisture is also an integral part of predicting fire behavior and fire spread probabilities.

An interagency effort is now underway to compare CFFDRS indices to actual duff moisture, provide near real time live fuel moistures for fire behavior modeling and track moisture levels throughout the season.