Fire Ecology Annual Report 2017 - Communicating Results
By Jennifer L. Barnes and Jennifer L. Hrobak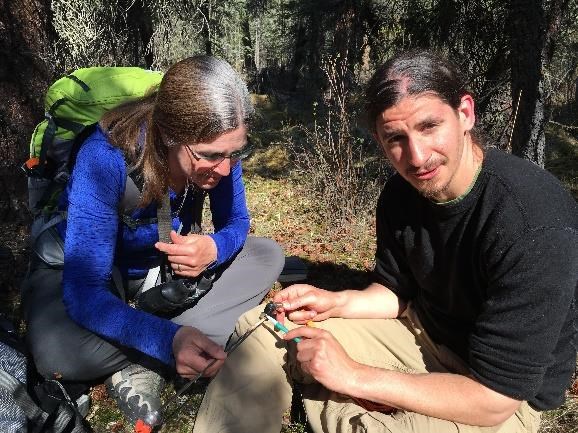 Communicating results of projects or research is an important aspect the fire ecology program in order to provide information and outreach to fire managers, park staff, and the public. Table 8 lists the number of monitoring reports and presentations completed by park/affiliated group.

As park staff began to ramp up for the summer season, the fire ecology program pitched in with two train-the-trainer sessions. In May, the assistant fire ecologist presented park-specific Alaska fire ecology, fire behavior, and fire regime information to Wrangell-St. Elias interpreter staff to help field visitor questions. The group also took a tour of the fuel treatment surrounding park headquarters. The regional fire ecologist also had an opportunity in interact with Denali park staff during the Ask-A-Scientist event.

Later in June, the regional fire ecologist participated in a teacher intensive in Denali National Park. Teachers learned about fire in the park though a day-long field trip learning about boreal forests (Figure 12). The fire ecology program also provided fuel moisture sampling assistance in the form of field demonstrations and one-on-one instruction to interagency fire management partners (State of Alaska, Division of Forestry – Fairbanks Area).

In addition to these activities, formal oral presentations were given at the Interagency Fall Fire Review (October) and the Association for Fire Ecology Conference (November) summarizing preliminary results of field work in Denali and Wrangell-St. Elias on the impacts of repeat fires. This project was also featured in the Fall 2017 issue of High Latitude Highlights, entitled "Once-burned…..Twice-burned Forests in a Changing Landscape". Finally, the regional fire ecologist gave a webinar presentation for the AWFCG (Alaska Wildland Fire Coordinating Group) Fire Modeling and Analysis Committee on comparing and testing Alaskan fuel models and fire behavior based on fuel moisture adjustments. This webinar was hosted in conjunction with JFSP Alaska Fire Science Consortium. Both the regional and assistant fire ecologists serve as advisory board members and are actively involved in Alaska Fire Science Consortium activities.

See the Refrences article for a list of reports, presentations, and other forms of communication completed in 2017.

Table 8. Communicating Results - 2017

| Park | #of Project Monitoring Reports completed in 2017 | #of Annual meeting(s) with Park staff | # of Formal presentations of results | Do you use Minitab?* |
| --- | --- | --- | --- | --- |
| Yukon-Charley Rivers | 0 | 0 | 0 | No |
| Denali | 0 | 0 | 1 | No |
| Noatak | 1 | 0 | 0 | No |
| Lake Clark | 0 | 0 | 0 | No |
| Wrangell-St. Elias | 1 | 0 | 1 | No |
| Alaska Regional Office | 0 | 2 | 0 | No |
| Arctic Inventory & Monitoring Network | 1 | 0 | 0 | No |
*This information will help to assess Minitab multi-user license needs.
Series: NPS Alaska Region Fire Ecology Annual Report for 2017
Last updated: March 22, 2018