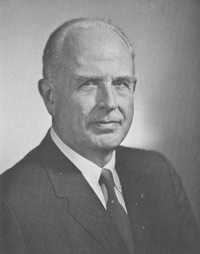 Amidst the cultural and political unrest of World War II, individuals working for what was called The Roberts Commission extended personal passions for art, design, history, architecture, and education into a much broader public sphere. In doing so, they played an essential role in preserving treasured cultural resources from the destructive threat of war.
One of the individuals serving on The Roberts Commission was Lt. Col. Norman Thomas Newton.  Newton served as director of the sub-commission known as the Monuments, Fine Arts, and Archives (MFAA) Section of the Civil Affairs Division from 1942 to 1943 and continued as an attachment to the British Eighth Army in Italy until 1946.  This section was referred to as the "Monuments Men," although the group of nearly 350 contained both men and women.
The multi-national collection of museum curators, architects, artists, and academics identified and re-located millions of cultural and artistic materials that had been seized by the Nazis. As a landscape architect, Newton's role involved surveying the condition of cultural sites and monuments, as well as formulating recommendations for their conservation. His wartime efforts earned him several awards and honors from the Italian government.