Martin Luther King, Jr.: From Youth to Leadership in Atlanta
By David Hasty, NPS Cultural Landscapes Program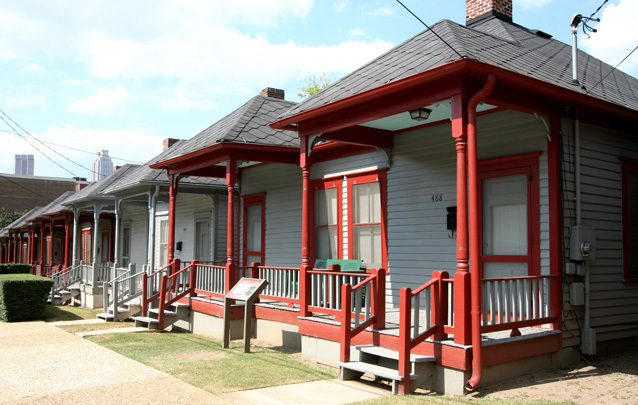 Martin Luther King, Jr. National Historic Site
Atlanta, Georgia
Martin Luther King, Jr., is best known nationally and internationally for his leadership of the American Civil Rights Movement and his subsequent efforts to promote world peace and economic equality. The Martin Luther King, Jr., National Historic Site, located in the historic east side Atlanta black community where King was reared and to which he later returned in the height of his activism, commemorates King's lifetime achievements. The Site preserves the King Birth Home and the immediate historic neighborhood where King spent his youth. The larger "Sweet Auburn" community, which served as the economic, cultural, and religious center for Atlanta's segregated black population from 1910 through the 1960s, greatly influenced King both as a youth and as an adult.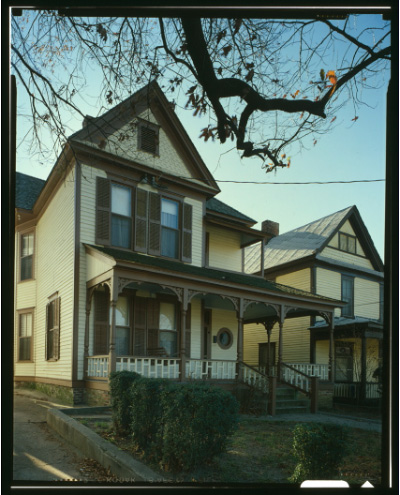 On January 15, 1929, Martin Luther King, Jr., was born in Atlanta at 501 Auburn Avenue within a prosperous black commercial and residential district. He lived in this house with his mother, father, grandparents, sister, brother, and an occasional boarder until he was twelve years old. King attended public schools nearby and walked to services at Ebenezer Baptist, where his maternal grandfather and father served as ministers.
In 1941, the family moved to another house within the Auburn Avenue community, and King commuted to Atlanta University on the west side to attend high school classes. As an adult, King left Atlanta to attend Crozer Seminary, in Chester, Pennsylvania, near Philadelphia, and continued his education at Boston University. King led the members of the Dexter Avenue Baptist Church in Montgomery, Alabama, while completing his doctorate in theology at Boston University.
After serving in Montgomery for six years, King traveled to Atlanta to help organize the Southern Christian Leadership Conference in 1957, and eventually moved to the city in 1960. The dominant force in the SCLC, King also co-pastored at Ebenezer Baptist Church in the Auburn Avenue community with his father.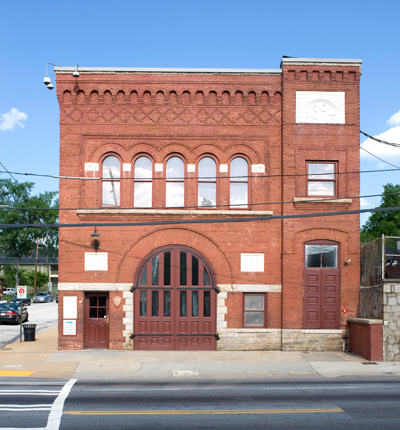 At his birth in 1929, King became part of an economically and socially prosperous community, but one which also struggled within the confines of racial segregation. King's childhood in this community combined racial pride and progress with persistent fears of economic decline and the humiliation associated with unpredictable and irrational racial prejudice. Within a few years of King's birth, the Depression began to take its toll upon the community, especially the residential section. Black professionals exited the community for new residential areas to the west, leaving behind laboring residents unable or unwilling to invest money and time into older, often rented dwellings. As the century progressed, Auburn Avenue's commercial vitality persisted, but decades of poverty and neglect had degraded the housing.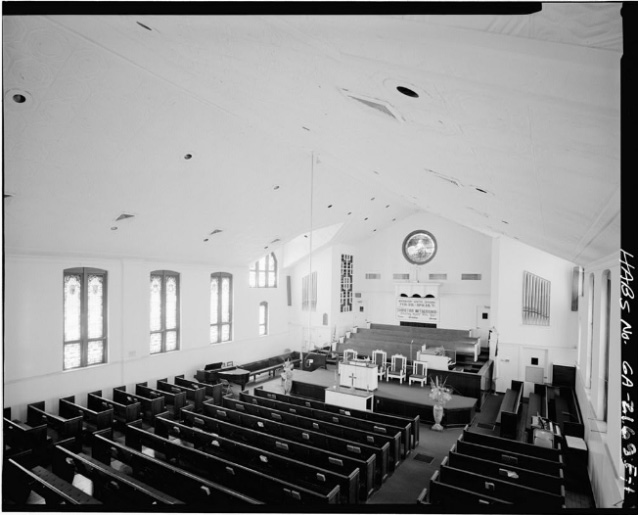 Ebenezer Baptist Church played an important role in King's return to Atlanta in 1960. King followed in his father's footsteps, pastoring at Ebenezer and utilizing his pulpit and its conferred social status to help organize black civil rights activities in Atlanta and across America. Ebenezer Baptist Church symbolizes both King's individual efforts toward achieving racial equality and the impressive role black clergymen played in post-World War II civil rights activities.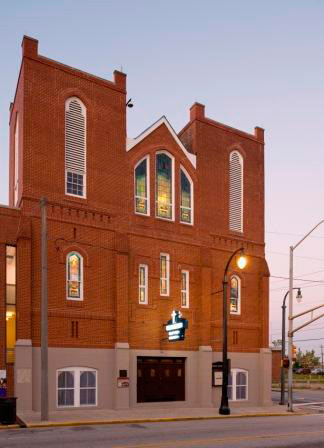 Black clergymen traditionally had great prestige and authority in the black community, but prior to the 1950s, they rarely led civil rights protests that extended beyond their church membership or community.
A new generation of southern black ministers, including King, Rev. Ralph David Abernathy, Rev. C. K. Steele, and Rev. Fred Shuttlesworth, took the lead in the fight against segregation on a national level. King urged civil rights activists to utilize the Christian doctrines of nonviolence, redemption through suffering, and love for all enemies in their protests. Having studied the principles of civil disobedience exemplified by Henry David Thoreau and Mohandas Gandhi, King and the SCLC developed new strategies utilizing massive peaceful marches and demonstrations to confront the southern system of segregation.
Beginning with the boycott of segregated buses in Montgomery, Alabama, in 1955-1956, King spearheaded the movement that spread throughout the South and elicited considerable sympathy among whites nationally.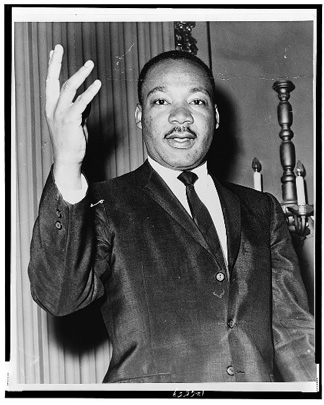 Through the SCLC, King supported local movements against segregation in Birmingham and Selma, Alabama; Albany, Georgia; St. Augustine, Florida; and elsewhere. Demonstrations planned or led by King often were brutally repressed by white authorities, resulting in intensive national media coverage of these events. The attention that King focused on the plight of southern blacks was instrumental in gaining passage of the Civil Rights Act of 1964 and the Voting Rights Act of 1965, major legislative victories for the Civil Rights Movement. King received numerous awards, including the 1964 Nobel Peace Prize, in recognition of his nonviolent civil rights work.
The assassination of Martin Luther King, Jr., in Memphis, Tennessee, on April 4, 1968, robbed the American Civil Rights Movement of one of its most effective and respected leaders. Following his death, SCLC and other black activist organizations continued civil protests. But these organizations' beliefs and tactics varied widely, and their subsequent campaigns never gained the cohesion which, although fragile at times, generally characterized the progressive campaigns led by King.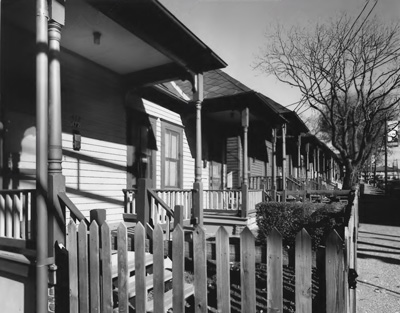 Martin Luther King, Jr., National Historic Site
The Martin Luther King, Jr., National Historic Site is a small, urban park located in the city of Atlanta, Fulton County, Georgia. Containing approximately 38 acres, 4.78 of which are federally owned, the Site lies 1-1/4 miles east of the central business district.
Most properties within the Site front one of two avenues running east and west, Auburn Avenue and Edgewood Avenue. The Site is irregularly shaped and roughly bounded by Jackson Street on the west, Cain Street on the north from Jackson to Boulevard, Old Wheat Street on the north between Boulevard and Howell Street, Howell Street on the east, and the rear property lines on the south side of Edgewood Avenue. Current land use within the Site is mostly residential on Auburn Avenue and largely commercial on Edgewood Avenue and north of Irwin Street. The Martin Luther King, Jr., Center for Nonviolent Social Change, Inc., is located on the west side of the Site and occupies an entire city block.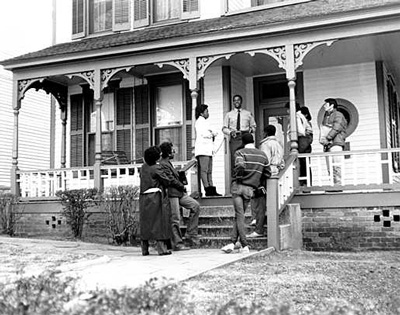 The Site commemorates the life and accomplishments of Martin Luther King, Jr., a prominent leader of the American Civil Rights Movement during the 1950s and 1960s. Federal legislation established the Martin Luther King, Jr., National Historic Site and Preservation District on October 10, 1980, to "protect and interpret for the benefit, inspiration, and education of present and future generations the places where Martin Luther King, Junior, was born, where he lived, worked, and worshipped, and where he is buried."
Historic resources within the Site include the houses along the block where King was born, Ebenezer Baptist Church where King, his father, and grandfather were pastors, Fire Station no. 6, and commercial buildings along Edgewood Avenue. As noted, the legislation identifies the grave site of King as a resource requiring protection and interpretation. Since 1971, the King Center has housed the grave site, consisting of the marble tomb and eternal flame.
The King Center, a modern complex built between 1971 and 1981, also includes a memorial plaza with a fountain, interpretive exhibits, a restaurant, and administrative offices. The National Park Service does not contribute to interpretive programs at the gravesite. However, NPS does maintain the grave site at the King Center and conducts tours of the Birth Home.
The Martin Luther King, Jr., Preservation District, also established in the 1980 legislation, adjoins the Site on the east, north, and west and embraces the larger Auburn Avenue black community in which King grew up. The Preservation District links King's career to the black business, religious, social, and political organizations that flourished along Auburn Avenue prior to and during King's lifetime.
Visiting this Landscape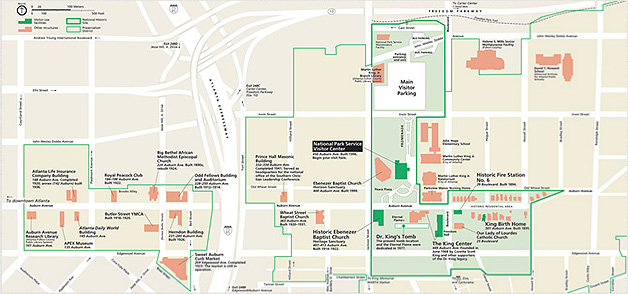 Events, an interactive map, and more details can be found at the Martin Luther King, Jr. National Historic Site website.
Contact: (404) 331-5190
Fees: Free
Access: Open daily, year-round
Last updated: February 17, 2017