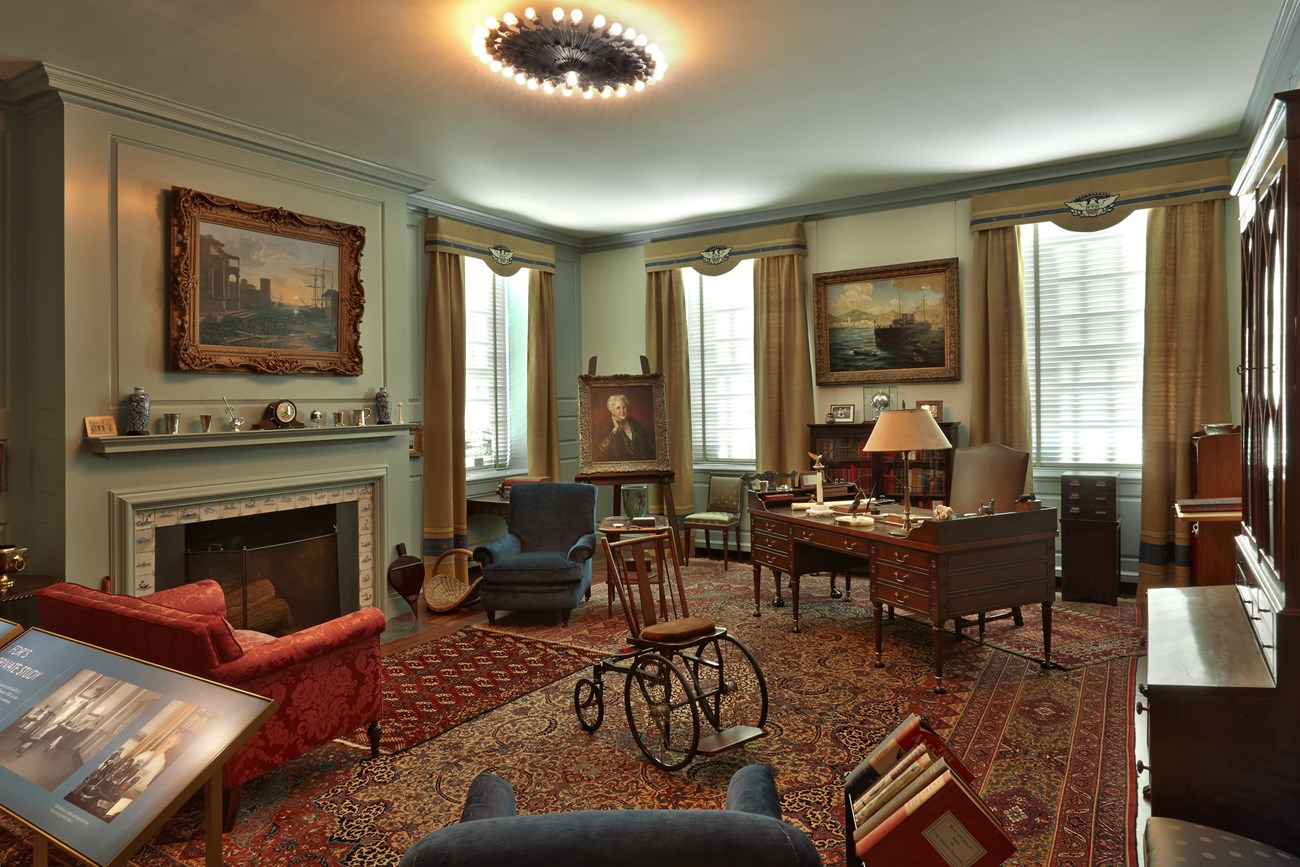 This room is the most historic space in the Franklin D. Roosevelt Presidential Library and Museum - FDR's private study. This is the President's actual office, not a recreation.
The Roosevelt Library is the only Presidential library ever used by a sitting president. When it opened to the public in June 1941, FDR was beginning his third term. He used this study as a place to conduct government business, receive visitors, and work with his books and papers during his many visits to Hyde Park (totaling over 250 days) during World War II. He also made several of his famous radio speeches, or "Fireside Chats," from this room.
President Roosevelt designed this room for his own use. He selected and arranged the furniture, pictures, and other objects you see here. Many are personal treasures - gifts from friends and relatives, family pieces, or mementos from his travels. They reflect his varied interests, including his love of family history and his passion for sailing and the United States Navy.
The study remains almost precisely as FDR left it on his last visit here on March 28, 1945.

Wheelchair
The President used this wheelchair during his frequent visits to the Library. It is one of several built to his specifications. He had workers cut the legs off of an ordinary wooden chair and mount it to a custom-designed chassis. Note the swivel mounted ash tray on the right side. FDR spent relatively little time in his wheelchair. It was used to transport him between destinations. He would typically sit in one of the chairs arranged in this room.

Painting above Mantel
This painting of an Italian harbor at sunset is attributed to Claude Lorrain (1600-1682). FDR's godmother, Eleanor Blodgett, gave it to him in 1923.

Painting Behind FDR's Desk
The large painting behind FDR's desk depicts the destroyer USS Dyer. The Dyer carried Assistant Secretary of the Navy Franklin Roosevelt to Europe for an inspection trip in 1918. Shortly after that trip, FDR commissioned this painting by Charles E. Ruttan (1884-1939). It depicts Roosevelt's arrival in the harbor of Ponta Delgada, Azores, in July 1918.

Draperies and Valances
The draperies and valances are reproductions of the originals made for this room in 1941 by workers at the Norfolk, Virginia Works Progress Administration (WPA) Craft Project.

Persian Carpet
This carpet, woven in Isfahan, was presented to President Roosevelt by the Shah of Iran at the Teheran Conference in November 1943.

FDR's Desk
This desk is a copy of the one used by FDR in this room. The original desk - a replica of one once owned by George Washington - was removed by FDR's son, James, after the President's death. Roosevelt purchased that desk in 1918 for President Woodrow Wilson while he was serving as Wilson's Assistant Secretary of the Navy. It was part of a set of furnishings FDR bought to outfit Wilson's quarters aboard the USS George Washington, the ship Wilson used to travel to Europe to attend the Paris Peace Conference at the end of World War I. Years later, when the ship's furnishings were auctioned off, FDR purchased the desk. He later installed it in this room.

Portrait of Sara Delano Roosevelt
In 1940, the President's mother commissioned this portrait by Douglas Chandor (1897-1953) expressly for this room.

Books
The books in the room are part of FDR's personal library of over 22,000 volumes. He personally selected the volumes to be stored here.

Content for this article courtesy of the Franklin D. Roosevelt Presidential Library and Museum.