Like her mother, Lillian did not sit at home waiting to be married. With her siblings, she attended school in Galesburg, Illinois and in 1906 started teaching at local schools.
Despite her young age, Lillian began to have problems with her hearing. Undeterred, she went back to Illinois in 1911 to attend Knox College. In 1917 Neil and Emma had moved away from Faraway Ranch due to Neil's employment with the Forest Service, and the ranch was left in the hands of their three children. Lillian returned to the area and began teaching again, but when Hildegard started boarding guests at the ranch on weekends that same year, Lillian quit teaching and started helping her sister. Their business proved a success, and a year later they purchased the Stafford cabin and property, which was adjacent to the Faraway Ranch. Hildegard moved away in 1920 when she got married, but Lillian remained. Soon, she began seeing Ed Riggs, an old neighbor whom she had known when they were both children.
Lillian was not certain that she wanted to continue living and working at the ranch. In the summer of 1922 she went to Los Angeles to take a course in writing. She may have attempted to get some work published as well. But at the end of September, she returned to Arizona and married Ed shortly thereafter. By this time, the Faraway Ranch was an established business. Ed and Lillian continued to keep cattle and grow fruits and vegetables in addition to boarding tourists. Although Lillian always had to be a gracious hostess to her guests, a role that emphasized the stereotypical qualities of a housewife, she also managed many details of the business. In a letter to her niece, who had expressed interest in one day running a guest ranch herself, Lillian enumerated the many tasks that fell under her purview:
Can you write letters that will bring desirable guests who have never seen or heard directly of your place?... Can you take an ordinary good cook, who is more than apt to be at the same time ignorant of calories, food combinations, and attractive serving and get her to serve the kind of meals you want without antagonizing her and having her quit when there are thirty hungry guests to be fed? … What will you do in…emergencies[?] Remember you are not in town where you can call a plumber, an electrician, a carpenter, a mechanic, or a blacksmith, whenever you need one. . . . When the water pipes freeze on the coldest night in forty years? When the drains from the main house refuse to function? When the horses need to be shod and the saddles repaired? . . . It is a very cold night and the butane tank fails to deliver gas. What do you do? Since you have fireplaces, where and how do you get the wood? How and where are you going to get your milk and fresh vegetables? Who keeps your refrigerator plant in operation? You can do the marketing and plan the meals. Take care of the laundry. . . . Who will take care of your cars and trucks? Who will keep your books? Pay sales taxes, income taxes, and unemployment compensation tax?
In many years the guest ranch produced a sizeable profit, but Lillian and Ed continued to keep cattle as well. Having two sources of income provided a buffer for years when tourist numbers were down or when cattle prices slumped. Keeping cattle also meant that the Faraway Ranch exuded the atmosphere that many tourists sought in the West—an atmosphere of cowboys, cattle drives, and the rugged frontier. Throughout the West in the 1920s and 1930s, dude ranches became popular tourist destinations. At dude ranches, tourists could participate in the actual work of a ranch—or simply observe from the sidelines. Lillian always preferred the term "guest ranch" to "dude ranch," but she and Ed emphasized the homey, simple pleasures, far removed from the hectic bustle of modern life, that could be found at Faraway.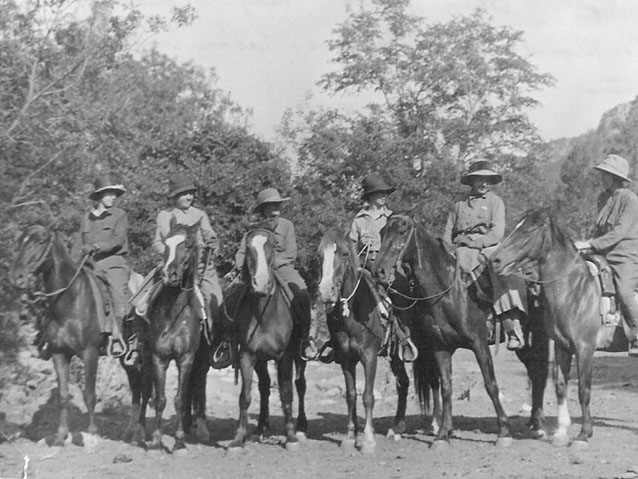 Guests wanted to find an approximation of a more rugged, primitive existence at Faraway Ranch, but they didn't want to give up their comforts entirely. In a brochure for the ranch, Lillian assured visitors that "although life at Faraway Ranch is a thing apart from the hurry of city life it keeps in touch with the world's doings by means of the radio and current periodicals." Many of the guests stayed in the main ranch house itself, and Ed and Lillian installed running water, two indoor bathrooms, and electricity in the house to meet the expectations of guests who did not want to go entirely without modern conveniences. The old Stafford cabin and another small cabin provided lodgings for those who did not mind a rougher lifestyle. By the early 1930s, up to thirty-two people at one time could be lodged at the ranch, although the numbers of guests were usually much smaller. While at the ranch, guests could take part in a variety of activities. If they were feeling adventurous, they could ride along on cattle round-ups. Tamer horseback riding trips also were popular, and Lillian often led sing-alongs at the piano in the evening. Ed served his special homemade ice cream on Sundays, and on hot summer days, guests could swim in a small pool that the Riggses had constructed.
Last updated: March 18, 2016