By Aviation: From Sand Dunes to Sonic Booms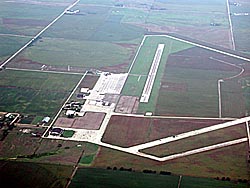 Fairmont Army Airfield is one of 12 airfields in the state of Nebraska and numerous facilities throughout the Midwest constructed prior to and during World War II as part of an extensive construction program undertaken by the U.S. military. September 16, 1942, marked the beginning of construction at Fairmont Army Airfield, and it was promptly completed by the latter part of November of that same year. Originally opened as a satellite base for the Topeka, Kansas, Army Airfield, it was converted to an individual facility in 1943. The airfield was utilized as a heavy bombardment training facility during WWII as bombardment groups were trained in the Consolidated Vultee B-24 Liberator and eventually in the more technologically advanced B-29.
Fairmont was an "advanced training" facility where men would arrive to be tested in the aircraft that they were assigned to fly, in addition to practicing formation flight and long distance navigation, two fundamental aspects of strategic bombing tactics. Overall, seven bombardment groups were trained at Fairmont throughout the course of the war: the 485th, 451st, 504th, 15th, 98th, 467th and 489th. Lieutenant Colonel Paul Tibbits, commander of theEnola Gay, selected certain men from the 504th group to form part of the 509th Composite Group, the team that would commandeer the atomic bomb missions over Japan in 1945. However, it is not certain whether any of the pilots selected at Fairmont indeed flew the atomic bomb mission.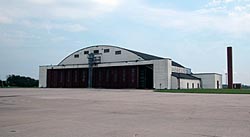 During the war, the Fairmont Army Airfield encompassed approximately 2,000 acres of converted farm land and consisted of 275 support buildings and structures, with the capacity to accommodate 3,700 military personnel. Presently there are three mostly extant runways which extend nearly 7,000 feet in length, alongside their related taxiways and aprons. There are six surviving buildings which include a small oil storage building, a small pump house and four large bomber aircraft hangars. There is also a water tower surrounded by a 20-acre area containing numerous ruins and foundations. Fairmont Army Airfield still retains several WWII era structures and sites whereas the other remaining airfields in the state have lost the majority of their primary structures and buildings associated with Nebraska's WWII legacy.
Visit the National Park Service Travel American Aviation to learn more about Aviation related Historic Sites.
Last updated: August 29, 2017