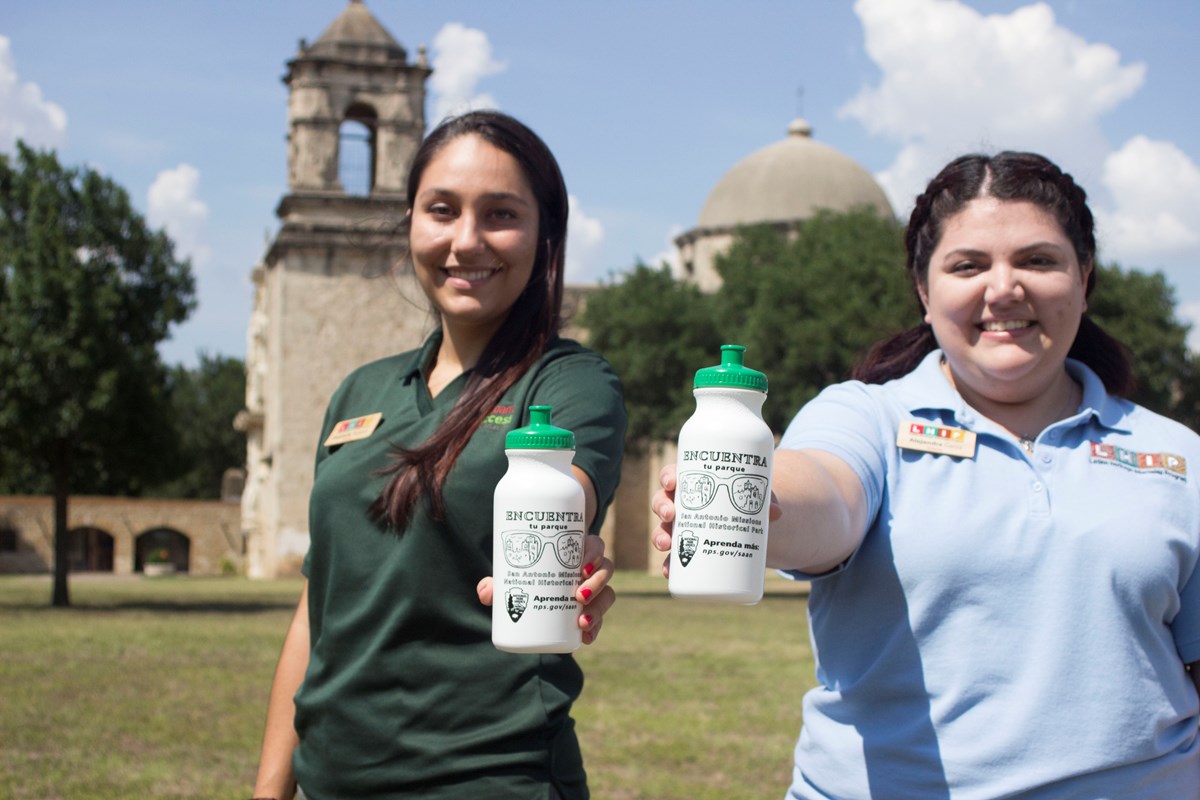 Article by Latino Heritage Intern Alejandra Garza & Community Outreach Fellow Chantelle Ruidant-Hansen

When the Spanish established the San Antonio Missions, they laid the foundation for a new cultural group to emerge: the Tejano people. The missions are a representation of the shift in culture, religion, lifestyle, and people that occurred three hundred years ago. Tejanos represent that change as well. Modern Tejano culture is a result of the blend of Spanish and native cultures and distinct to South Texas. The San Antonio Missions National Historical Park represents the broader story of Hispanic colonization, the Catholic faith, and the spread of the Spanish language. Connecting to this history, Latinos from many different backgrounds find their park at the San Antonio Missions.
Latino Conservation Week on July 14-22, an initiative of Hispanic Access Foundation is about celebrating the outdoors with the Latino community. The San Antonio Missions have a rich history that is rooted in the land and has fostered a strong local community including families of mission descendents. Their ancestors appreciated the natural resources long before the Spanish settled and changed their way of life forever. Therefore, Latino Conservation Week is a great opportunity to embrace both the past and present through nature. The San Antonio Missions National Historical Park is hosting a week-long nature-based scavenger hunt for visitors. Through this event, visitors will learn about the natural resources, plants, and animals that were essential to the native peoples and the establishment of the missions.
As San Antonio continues to grow and construction is always ongoing, San Antonio Missions National Historical Park protects pockets of cultural and natural resources on the southside of the city. These lands protect and preserve the Spanish colonial missions built in the 1700's but also the land that was home to the native peoples and drew the Spanish in to settle. A Spanish priest reflects on his exploration of the area:
"...a very thick wood of corpulent mesquite, pecan, live oak, oak, mulberry, wild grapevine, and many other trees and different plants. It is populated by various handsome birds." Father Morfi
These natural resources have continued to be an important part of the San Antonio ecosystem and a beautiful landscape for everyone to enjoy. Along the San Antonio River visitors can enjoy the hike/bike trail that links all the Missions together. This natural resource also links the people to their heritage. The missions are a home for families in the area and many can trace their ancestors back to them, and they continue to practice their faith and traditions in the churches.
Last updated: July 6, 2018