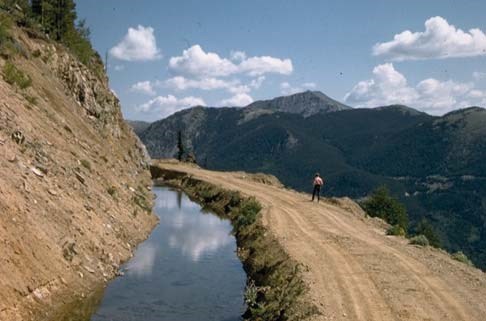 The Question: What are the ecological effects of the Grand Ditch water diversion on riparian areas in the Kawuneeche Valley?
The Grand Ditch is a century-old water diversion project in the northwestern corner of Rocky Mountain National Park. The ditch is 15 miles long with a drainage area of approximately 20 miles or five percent of the park. Eleven headwater tributaries of the Colorado River are intercepted by the ditch between May and September every year. Park managers have been concerned with the ecological effects of the water diversion on the riparian and wetland communities in the Kawuneeche Valley downstream from the ditch.

The Project: Use a variety of techniques to measure the effects of the diversion on stream flow and plant communities below the ditch between 1996 and 1997.
The project began in 1996 when Dr. David Cooper, Dr. Lee MacDonald, Dr. Rod Chimner, and Dr. Scott Woods (Colorado State) compared plant communities in the impacted area with similar communities in unimpacted areas. They measured surface water-flow rates and ground-water levels throughout the valley. They monitored gasses released from soils in peatlands and estimated sediment accumulation in the Colorado River. (Peatlands are ecosystems with organic (peat) soils, produced because the perennially saturated soils have little oxygen, which slows the rate of decomposition of dead plants. Some plants grow only in this type of community.)