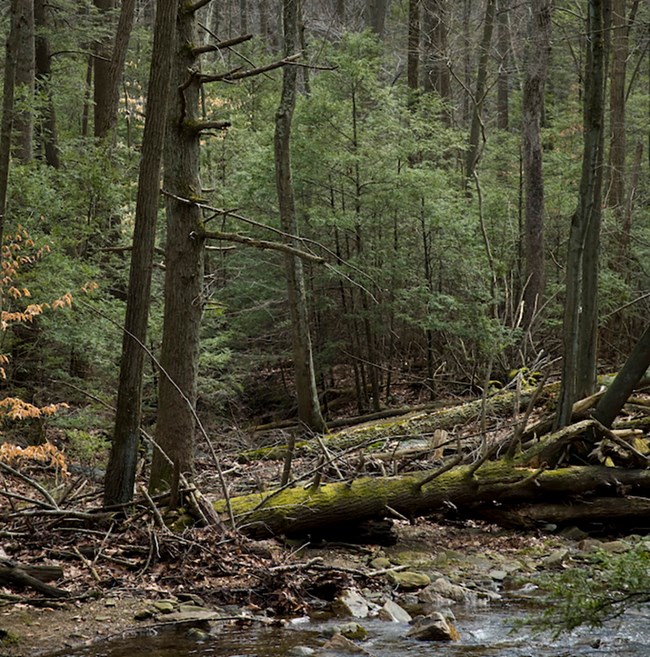 Importance
Eastern hemlocks are evergreen trees native to National Capital Region (NCR) parks.
They often grow in patches along streamsides and provide cooling shade in winter and spring when other trees have no leaves
Two non-native insect pests have killed many of the Eastern hemlocks in NCR forests.
Some trees have survived, but many are being replaced by other tree species that can't shade streams year-round as hemlocks do.
About Eastern Hemlocks
Eastern hemlock (
Tsuga canadensis
) is a long-lived, evergreen tree native to the eastern United States. In the National Capital Region (NCR), naturally occurring stands of Eastern hemlock are usually restricted to stream bottoms and north facing slopes in cool, steep terrain. In stream-side habitats, hemlocks maintain cool water temperatures by shading the water in winter and spring when many other tree species have no leaves.
While Eastern hemlock was never common in the NCR—this is the eastern edge end of their range—it has become increasingly scarce as a result of attacks from two non-native insect pests: hemlock woolly adelgid (
Adelges tsugae
) and elongate hemlock scale (
Fiorinia externa
). These pests have had devastating impacts on hemlocks across much of their
range, at a time when warming temperatures have already stressed these cool-climate trees. Yet even where the insects have been established for a decade or more, some trees still
survive.