Article
Easements Protect West Baden Springs Hotel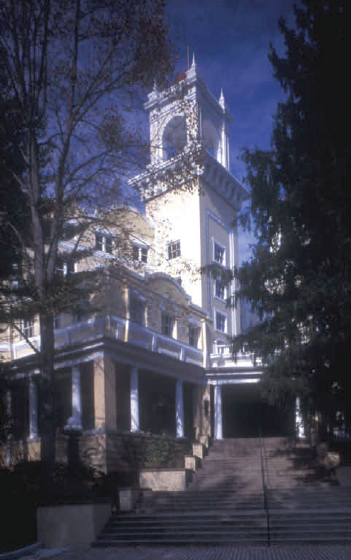 Developer Lee W. Sinclair's West Baden Springs, Indiana Hotel opened in September 1902 to effusive coverage in both the Indiana and national press, soon acquiring its popular title as the "eighth wonder of the world." Noted for its 200‐foot diameter atrium, 130‐foot height steel and glass dome, 16‐sided exterior, and six‐story reinforced concrete and brick structure, the hotel featured "an Olympian combination of styles" intended to capture the imaginations of elite visitors. Notable guests included General John J. Pershing, Mayor William "Big Bill" Thompson of Chicago, New York Governor and Presidential Candidate Alfred E. Smith, and many others.
Financial trouble associated with the Great Depression led the hotel to close in 1932. Between 1934 and 1964, the building served as a Jesuit seminary before the Northwood Institute, a private school of business management, acquired the building in 1966. In 1983, Northwood Institute closed its West Baden Springs, Indiana campus and ownership of the property transferred to a real estate developer.
At the time of its designation as a National Historic Landmark on February 27, 1987, the West Baden Springs Hotel had an uncertain future. Over the next few years, the building stood vacant and decaying while changes in ownership and a bankruptcy dimmed hopes that it would find a respectful steward.

In July 1996, Historic Landmarks Foundation of Indiana (HLFI) purchased the building with donated funds and began working assertively to find a new owner who would rehabilitate the 508 room hotel. Cook Group, Incorporated, a medical device manufacturing company, worked closely with HLFI to fund an extensive $35 million restoration that began in 1996 and continued until 2004. In 2006, following the Indiana State Legislature's approval of a casino license for a facility near the West Baden Springs Hotel site, hotel use again became economically viable. A grand opening in June 2007 celebrated the completion of the hotel's protracted renovation project. Today, the West Baden Springs Hotel and the adjacent historic French Lick Springs Hotel operate as part of a $342 million casino and resort complex. HLFI provides daily tours of the West Baden Springs hotel and grounds.

To guarantee the building's continued preservation, the West Baden Springs Hotel has a preservation easement monitored by HLFI. Under the easement agreement's binding terms, the hotel's current and future owners will maintain the building's character defining features in perpetuity and HLFI will perform annual inspections. Administrative and legal costs associated with this monitoring are considerable, so HLFI requires easement donors to contribute an amount commensurate with the size of the easement to ensure appropriate resources for monitoring.

Building owners benefit financially from easement donations to HLFI, as federal tax laws allow easement donors to make an income tax deduction for the difference in the fair market value of a property before and after the easement. In many cases, this difference can be significant, as an historic property subject to competing development pressures might lose market value when subject to binding legal restrictions on its use.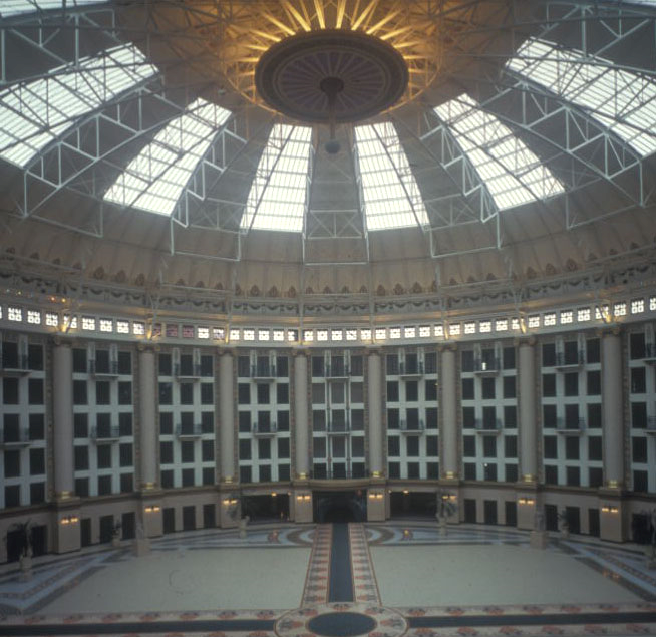 At the West Baden Springs Hotel property, HLFI amended its standard easement document and worked for many years with the Cook Group to define the specific terms of agreement. Initially, both parties expressed concern that standard easement restrictions would depress developer interest in rehabilitating and operating the property as a hotel. Both parties finally agreed that the easement should protect the main hotel building's exterior, outbuildings, garden, landscaping, two interior lobby spaces, and domed atrium. In addition, the easement allowed developers to reconstruct an historic natatorium that existed on the site until 1920. During the renovation, architects reoriented the hotel's service entrance to become the main entrance, ensuring accessibility underneath a new construction porte cochere. In addition, developers reduced the number of guest rooms from 508 to 240 so that guests would have more spacious accommodations.
HLFI annually monitors conditions at its approximately 400 easement properties across Indiana through active communication with current building owners and staff‐conducted conditions assessments. In rare cases where owners alter a property and ignore the terms of an easement, HLFI pursues court cases to maintain compliance.
---
Originally published in "Exceptional Places" Vol. 2, 2007, a newsletter of the Division of Cultural Resources, Midwest Region. Written by Tom Duda.
Last updated: July 3, 2018