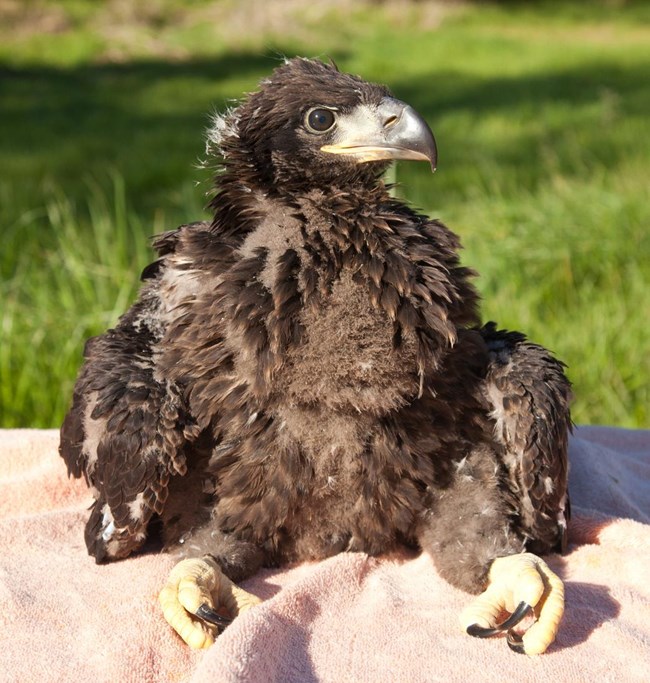 Bald eagles (
Haliaeetus leucocephalus
) nesting on national park and associated lands in the Chesapeake Bay are doing well.
A recent study
shows their numbers, once crippled by the effects of the insecticide DDT and other pollutants, are now growing. And juvenile eagles screened for pollutants generally showed low and undetectable exposure levels.
The study, by researchers at the Center for Conservation Biology (part of the College of William and Mary and Virginia Commonwealth University), looked at nestling bald eagles from the James River north to the Potomac River from 2016 to 2018. It included parks from Piscataway Park and Fort Washington (part of National Capital Parks–East) down to Yorktown Battlefield and Jamestown Island Colonial National Historical Parks.
Contaminant Levels Low
Nestling eagles are a good indicator of broader contaminant levels since all the food they eat comes directly from the territory their parents defend: land immediately around the nest. So researchers for this study looked at nestling eagles to assess not just the health of eagles themselves, but also the effects of contaminants more broadly across the entire Chesapeake Bay.
Blood samples from the baby bald eagles that were tested showed low levels of contaminant exposure for lead, polychlorinated biphenyls (PCBs), and organochlorine pesticide concentrations (OCPs). Mercury was present in concentrations in the lower to middle range of values reported from other studies of nestlings and cadmium was not detected at all. None of the contaminants tested for reached the threshold where they could have reproductive impacts.
Positive Numbers
Another heartening outcome of the study is that breeding rates for bald eagles in the Chesapeake Bay are now comparable to pre-DDT levels. From a low of ~60 breeding pairs in the early 1970s, populations have been increasing, reaching 646 pairs in 2001 and now 2,000+ pairs!
[Bald eagles were removed from the list of threatened and endangered species in 2007.]