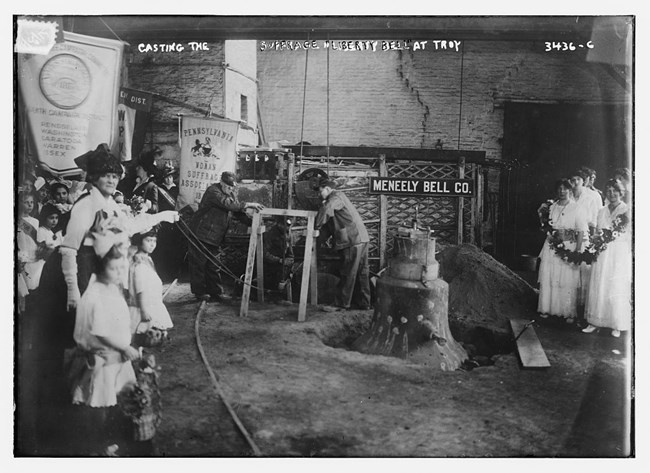 The bell is called the Justice Bell, but has also been known as the Women's Liberty Bell and the Suffrage Bell. It was commissioned by Katharine Wentworth Ruschenberger in 1915. She was one of the 70,000 members of the Pennsylvania Woman Suffrage Association, and a leader of the organization in Chester County.
A close replica of the Liberty Bell, the bronze Justice Bell was cast without a crack. The inscription on the Justice Bell reads:
ESTABLISH JUSTICE
PROCLAIM LIBERTY THROUGHOUT ALL THE LAND UNTO ALL THE INHABITANTS THEREOF
MENEELEY BELL CO
TROY, NY
MCMXV
The bell was cast by the Meneely Bell Foundry in Troy, New York.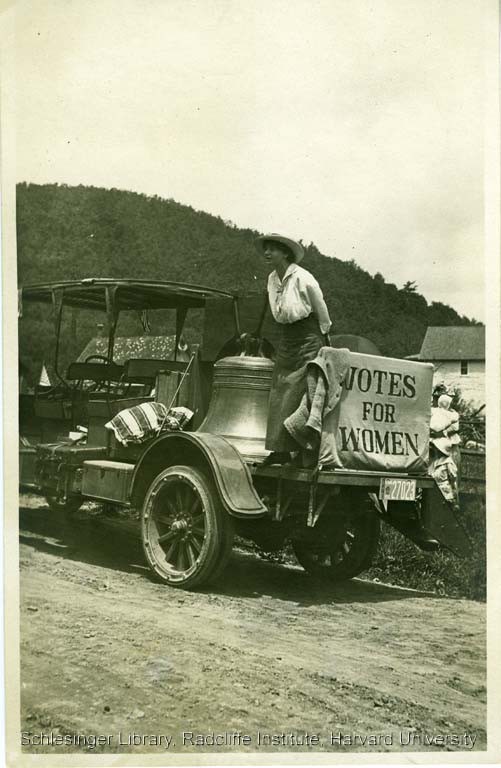 After production, the bell was mounted on the bed of a pick-up truck and taken on a driving tour to all of Pennsylvania's 67 counties. Its clapper (the part that hits the bell to make a sound) was chained, preventing the bell from ringing. This symbolized the silence of women who did not have the vote. The bell's 5,000 mile road trip was designed to raise awareness for women's suffrage in Pennsylvania – a state-wide referendum that failed in 1915. [1, 2]

In 1920, women took the bell on the road again, traveling to several states to raise support for the ratification of the 19th Amendment. After the 19th Amendment was ratified in August 1920, a celebration was held on Independence Square in Philadelphia. The Justice Bell was rung 48 times – once for every state in the union (Alaska and Hawai'i became states after 1920).

The Justice Bell is on permanent display at Washington Memorial Chapel, Valley Forge, Pennsylvania. Although located within the boundaries of Valley Forge National Historical Park, the Washington Memorial Chapel is technically not part of the park itself. [3]

[1] The Justice Bell was not the only bell that went on a nation-wide tour in 1915. That year, the Liberty Bell (usually at home at Independence National Historical Park) traveled across the United States to San Francisco, where it was placed on display on the eve of World War I. Along the return route between Philadelphia and San Francisco, approximately one out of every four people in the country saw the bell.

[2] A referendum is a vote on a single political question that all voters get to directly participate in at the ballot.

[3] Coincidentally, the bells of the Washington Memorial Chapel were also cast by Meneeley Bell Co.