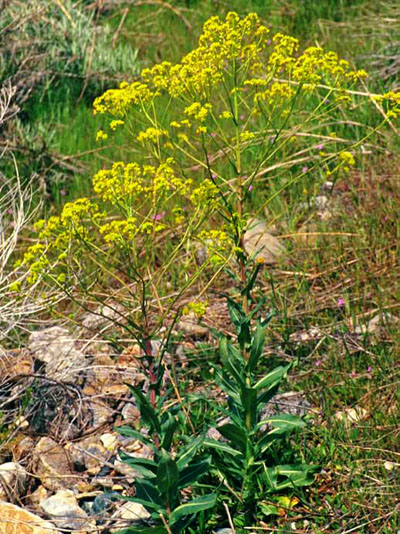 Biennial, sometimes an annual or a short-lived perennial

Exists as a basal rosette for a growing season before growing flowering stems.

Flowering stems grow to 25 to 40 inches tall.

Basal rosette leaves have conspicuously pale veins. Stem leaves are alternate and attach directly to the stem.

Bright yellow flowers are borne in clusters at the ends stem branches.

Fruit is a blackish silicle that droops from a slender stem.
Habitat and Ecology
Native to southeastern Russia, dyer's woad (Isatis tinctoria) is now invasive across the intermountain West of the US. Early European settlers to the east coast cultivated the plant for its dye, but despite its early introduction, dyer's woad did not become truly invasive until its introduction to California and Utah as a contaminant in alfalfa seed. Dyer's woad often grows on dry, coarse-textured, rocky soils. It is capable of invading both undisturbed and disturbed sites, such as roadsides, railroad right-of-ways, fields, pastures, grain and alfalfa fields, forests, and rangeland, especially big sagebrush (Artemisia tridentata) communities. Dyer's woad is highly competitive, often completely dominating a site. It spreads rapidly once established.