Pinnacles West Side Visitor Center Receives Multiple Awards and LEED Platinum Rating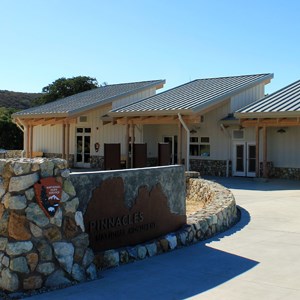 March 2013
The Pinnacles National Park West Side Visitor Center has received the U.S. Green Building Council (USGBC) Leadership in Energy and Environmental Design (LEED™) Platinum certification, the Council's highest rating for sustainable buildings. The visitor center, completed in January 2012, was opened to the public in a dedication ceremony on April 11, 2012. In addition to the LEED Platinum certification, the project has other awards including the 2010 LEED Innovation Award from the USGBC California Central Coast Chapter, and a 2013 Merit Award from the American Council of Engineering Companies of California.
"Pinnacles National Park is proud to set an example of how to build and operate sustainably. The natural resources of central California are an amazing example of diversity from the Pacific Ocean shores to the Gabilan Mountain Range, these new facilities are a great step forward to continue to protect the future of this area," said Karen Beppler-Dorn, superintendent of Pinnacles National Park.
Many sustainable features of the building have contributed to the Platinum certification, including the use of solar energy for its power source, energy and water saving features throughout the building including geothermal cooling, permeable paving, 41% of the building's materials were manufactured within 500 miles of the project site, and construction waste was diverted from the landfill. In addition, all of the regularly occupied spaces within the facility have day lighting, and most have access to outdoor views. The building was even constructed with photovoltaic power, rather than from generators or a public utility.
The design of the visitor center answers the National Park Service (NPS) Call to Action, an initiative to prepare the NPS for a second century of stewardship and engagement. This project addresses the "Going Green" action item by reducing the Pinnacles National Park carbon footprint through the use of renewable energy sources, and action item "Out with the Old" by installing interpretive media that can offer interactive experiences and are accessible to all members of the public.
This $7.3 million project was funded through the American Recovery and Reinvestment Act of 2009 and managed by the Denver Service Center, the NPS centralized office for planning, design and construction services. This facility replaces the Old Chaparral Ranger Station, which was located in a flood prone area that has now been rehabilitated.
Last updated: January 8, 2018