Santa Monica National Recreation Area: Student Intern Center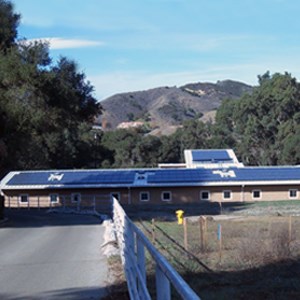 August 2012
In November 2007, a wildfire destroyed 5,651 square-feet of building space in Solstice Canyon in the Santa Monica Mountains National Recreation Area, including a Student Intern Center that supported core resource management and education program for the park.
Through American Recovery and Reinvestment Act of 2009 funding, a replacement facility was completed in October 2010. The Student Intern Center was relocated outside of Solstice Canyon and into an administrative area of the park at Diamond X Ranch. The new location is integrated with other park management functions consistent with general management plan recommendations. This replacement facility was a design-build contract managed by Denver Service Center, and was designed with sustainability as a focus. The redesigned and relocated student dorm is the first "net zero" facility in the National Park Service.
By consolidating activities into a smaller building footprint, and by relocating the facility into a safer fire area linked with other administrative uses, the park significantly reduced construction, maintenance, and operational costs. The center ties into existing utilities and an access road at Diamond X Ranch. The Student Intern Center is designed to take advantage of the southern California climate with the following features:
The center is super-insulated and is heated and cooled by a ground-source heat pump system, one of the most environmentally-efficient ways to provide space heating and cooling in a building. A series of flexible piping loops are buried 8-feet deep south of the center, and use the ground's relatively constant 50-degree temperature for heating and cooling.
Energy-efficient Light Emitting Diode (LED) and compact fluorescent lamps were used in the facility.
Tertiary-treated sewage effluent is discharged above the geoexchange pipes to keep the area wet and increase thermal transfer between the soil and the "slinky loop" pipes.
Solar panels on the roof provide hot water for the facility. A shed roof design provides maximum exposure to the southern sun. A grid-tied 35 kilowatt PV system provides 100% of the energy needs for the facility throughout the year, and produces enough surplus energy that it is offsetting a major portion of the electrical need at a nearby maintenance office, which is tied together with the dorm on a shared power company meter. Because of this, the Intern Center is considered a "net zero plus" project, and the office is near net zero.
The dorm has earned the U.S. Department of Energy's Federal Energy Management Program, which will be presented at an award luncheon October 4 in Washington, D.C.
Last updated: May 11, 2017