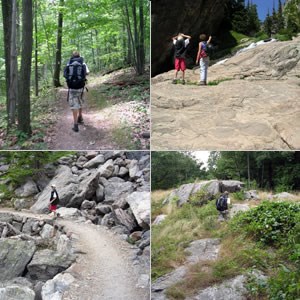 Backcountry trails are the avenue for many visitors to experience their national parks. The NPS aims to provide the highest quality visitor experience, while protecting park resources.
Minimizing impact to natural, historic, cultural, scenic and aesthetic resources is a foundational premise of NPS management decisions. Careful analysis and design is required to fit trails into backcountry areas of national parks with minimal impacts. Sustainability of backcountry trails is as much an art as it is a science. Management analysis of the sustainability of backcountry trails is based upon the physical capacity of the land to support the intended visitor use. As with wilderness ethics, minimum alteration of natural systems and minimum evidence of human presence is the desired outcome of management practices.
The links below provide the essential tools for NPS managers to use in the design and management of sustainable backcountry trails. The NPS will continually strive to use the best management practices and innovative ideas to promote sustainable trail design and maintenance.