THE GREAT
DR. KILMER'S SWAMP-ROOT
KIDNEY LIVER
&
BLADDER REMEDY
The Bottle
This bottle was found during archeological excavations at Fort Stanwix in the 1970s. It stands approximately 8 inches tall, 3 inches long, and 2 inches wide and is made of light turquoise colored glass. Its front features the words "THE GREAT DR. KILMER'S SWAMP-ROOT KIDNEY LIVER & BLADDER REMEDY" inside of an embossed image of a kidney. While this bottle may seem mundane and unassuming, it tells the story of a company whose founder's vision was corrupted and exploited by his very own family.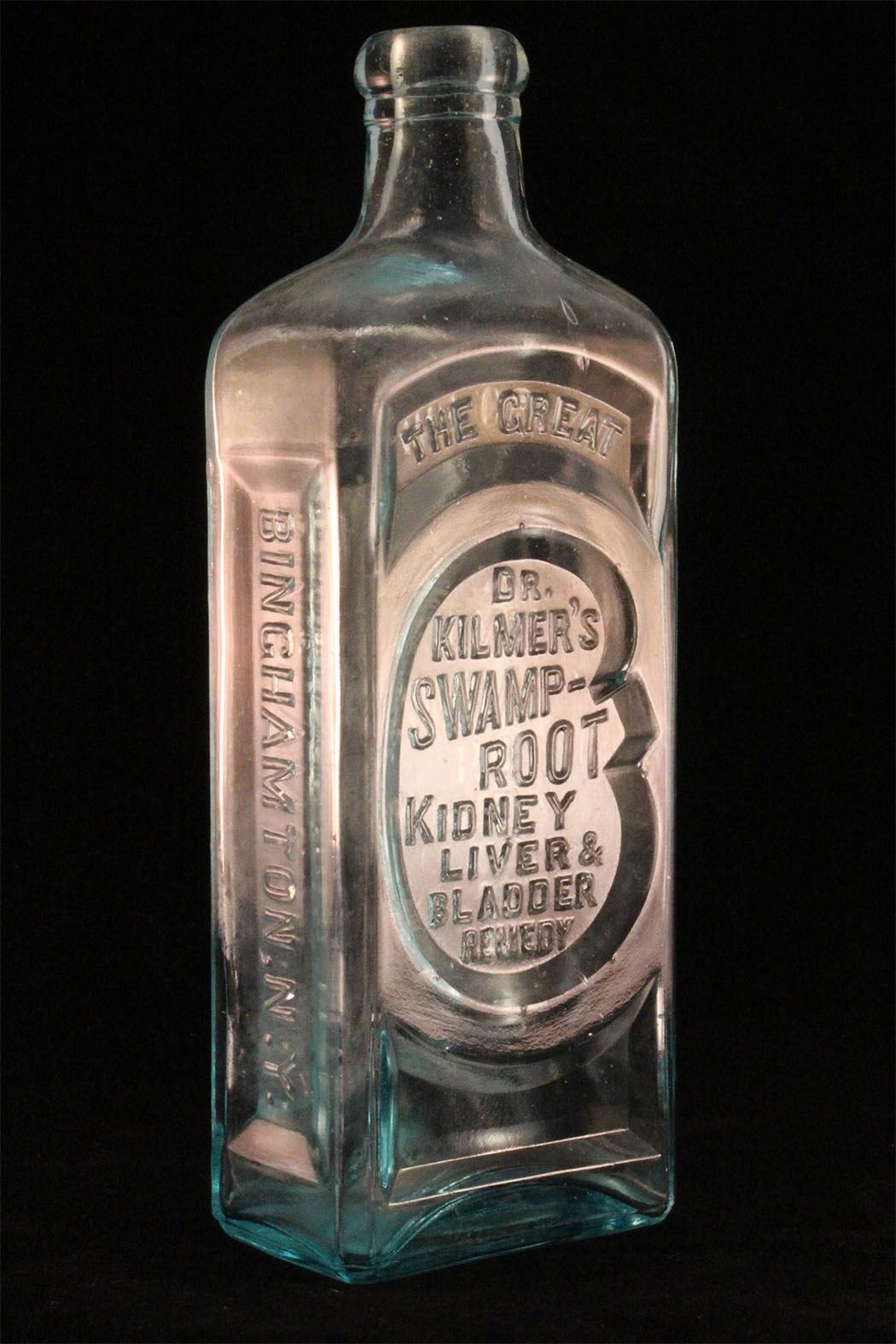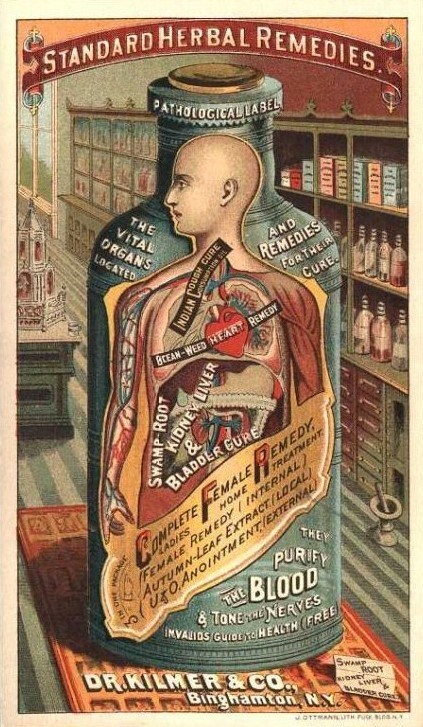 The Good Doctor
Dr. Sylvester Andral Kilmer was born in Cobleskill, New York in 1840. At eighteen he began studying homeopathic medicine under a renowned doctor in Schoharie County, New York. After years of medical instruction from all over the country, Dr. Kilmer returned to New York and set up a practice in Binghamton.

After settling in Binghamton, Kilmer set to work developing and selling homeopathic remedies. Over the years, he concocted many remedies in his Binghamton laboratory including Dr. Kilmer's Ocean Weed Heart Remedy, Female Remedy, Indian Cough and Consumption Cure, Autumn Leaf Extract, Prompt Parilla Pills, and his most well-known remedy: Dr. Kilmer's Swamp Root Kidney Liver and Bladder Cure.

Like so many other patent medicines of the times, Dr. Kilmer's cures were a mix of roots, herbs, and a hearty dose of alcohol. While it is possible that these plant-based additives did lend healing properties, it was more likely that any relief experienced by those taking the remedy was due to the substantial amount of alcohol present.

However, unlike many other patent medicines, Dr. Kilmer's Remedies did not contain any morphine, opium or cocaine that were so often included in medicine formulas.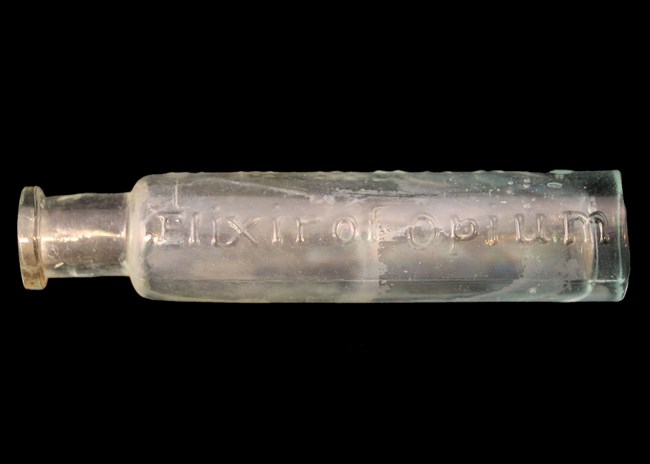 Several other medicinal bottles were also found by archeologists during excavations at Fort Stanwix, including this vial of "Dr. McMunn's Elixir of Opium" (pictured left). The numerous bottles found demonstrates the widespread availability of these substances.

In contrast to most patent medicine or "snake oil" salesmen, Dr. Kilmer truly believed in the curative potential of his many remedies.

In 1892, Kilmer constructed a "Sanitarium and Hydrotherapium" at a natural spring east of Binghamton. There he used the spring waters and his own remedies in an attempt to cure conditions of all sorts.

Some years later, Kilmer also founded a "Cancertorium" in Binghamton where he used his homeopathic cures to treat patients suffering from cancer. While these claims cannot be validated, many attested to the healing properties of Dr. Kilmer's many cures.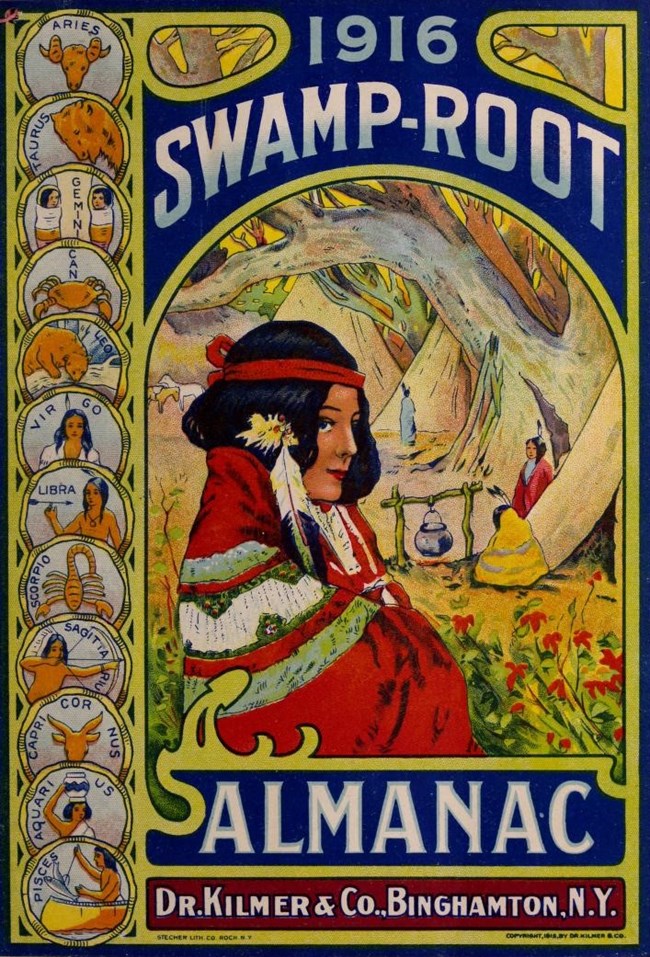 Power of Advertising
Willis's overhaul of the company's advertising included the production of posters and wooden signs. Willis also implemented the purchasing of ad space in newspapers across the county. These ads spoke of the countless curative properties of Dr. Kilmer's Remedies. Finally, each remedy bottle was embossed with the image of whatever organ the medicine is said to treat. Most famously, the Swamp Root Kidney Liver and Bladder Cure bottle features a large embossed kidney on its face.

While the posters, newspaper advertising, and easily identified bottles were beneficial to the spread of the Kilmer Company's popularity, the true advertising success came with the publication of the "Swamp Root Almanac."

These booklets contained standard almanac content such as moon phase, best planting times, and weather predictions. However, nearly every-other page of these almanacs contained full page testimonials and advertisements for each of the Kilmer remedies.

In 1904, Willis Kilmer founded his own newspaper, The Binghamton Press, which in time became a well-respected publication. Some believed that Willis's true reason for establishing this paper was primarily as a means to advertise his company's products, but also to attempt to put out of business the Binghamton Evening Herald, a rival paper who was very outspoken against patent medicines. Kilmer's paper often "debunked" the Evening Herald's claims.

When the Herald had to close, the owner sued Willis Kilmer for conspiracy to put his paper out of business. However, this lawsuit was unsuccessful.
The Buyout
Things began to change for the Kilmer medicine empire when Dr. Kilmer's brother, Jonas, joined the company to manage the business and logistical aspects of the endeavor. Jonas appointed his son Willis to overhaul the company's advertising department. In 1892, Jonas and Willis bought out Dr. Kilmer's remaining shares in the company.

The father and son duo then spearheaded a period of rapid expansion for the company and by 1909 the company had branch offices in New York, Chicago, Rio De Janeiro, Brazil and Kingston, Jamaica.
Regulation and Conflict
In 1906, The Pure Food and Drug Act was put into action, which prevented, "the manufacture, sale, or transportation of adulterated or misbranded or poisonous or deleterious foods, drugs or medicines, and liquors." This law made it illegal for drug producers to make outlandish claims and to contain potentially dangerous ingredients. While this act caused the demise of many patent medicines, the Kilmer Remedies remained mostly unaffected since it did not contain many of the harmful ingredients commonly found in their competitor's concoctions. However, some of their more far-fetched claims were removed. With the passing of this act, all patent medicines began to fall out of favor at this time.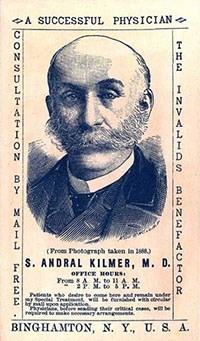 Conflict arose within the Kilmer family when the packaging for the Swamp Root Kidney Cure invited customers to seek medical advice and prescription from Dr. Kilmer. However, this was long after Dr. Kilmer had sold his share in the company and was no longer the physician in charge of the medical department. Therefore, the Kilmer Company was giving medical advice and prescribing their own drugs, all with the illusion that Dr. Kilmer was the source of these diagnoses. When Dr. Kilmer brought his brother Jonas and nephew Willis to court for these false claims, the judge sided with Dr. Kilmer. However, this decision was later overturned by the State Appellate Court.

Jonas and Willis had successfully taken the creations of Dr. Kilmer and, using clever (though sometimes deceptive) advertising and aggressive business techniques, had turned them into a nationally known household name. In response to being asked what Swamp Root was good for, Willis once replied "About a million dollars a year!"


The Kilmer name is one that can still be seen around the city of Binghamton, New York and discarded bottles of Kilmer's Swamp Root Cure, like the one found here, are now common in museum collections and archeological sites all across the country.