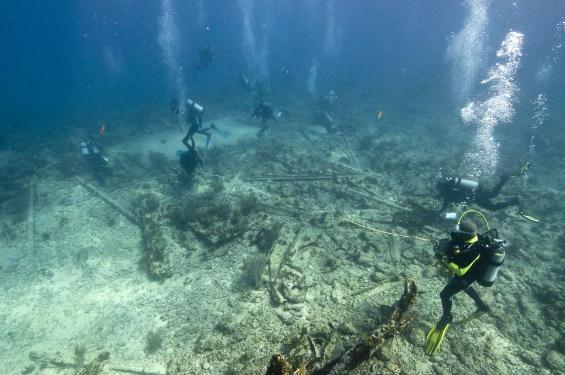 Written by Erik Denson; edited by Mia L. Carey
The seas have always connected humanity,creating a rich maritime culture and history that spans millenniums. Maritime history tells stories of triumph and tragedy. Of the good, bad, and the ugly. Maritime heritage and archeology often elicits images of ancient Viking vessels, Spanish galleons of gold, the Titanic, and Blackbeard's flagship.
There is much more to our maritime heritage, some of which has been forgotten, ignored, or lost. The dark and tragic history, like the history of the African-slave trade and its contributions, have been overlooked and disregarded. Perhaps because it is not glamorous and there is no gold. Yet, thousands of ships from many countries participated in the slave trade. Many of these ships were lost at sea and have a story to tell. Who better to tell the stories then the descendants of those who fell victim to this tragic history.
In 2003, members of National Association for Black Scuba Divers (NABS) participated in the "Guerrero Project" documentary. The documentary centered on the search for the slave ship and its amazing story told through the book authored by Gail Swanson. The documentary also tells the story of treasure hunters and archeologists and their opposing views. In 2005, Kenneth Stewart of the Tennessee Aquatic Project (TAP) and the late Brenda Lanzendorf developed the Diving with a Purpose program. Lanzendorf was the only archeologist at Biscayne National Park at the time and was the "star" of the Guerrero Project documentary. The DWP was formed to help Lazendorf document shipwrecks in Biscayne. The park is the largest marine park in the National Parks systems. It contains over 110 archeological sites, of which 43 are intact shipwrecks. The Guerrero was wrecked on December 19, 1827 on a reef near Key Largo. It was carrying 561 enslaved Africans en route to Cuba. Forty-one of the captive Africans drowned. During two expeditions in 2010 and 2012, DWP removed pieces of ceramics and glass, an iron shot, and wood samples to examine. A composite site map was developed. Research on the ship wreck is on-going. The expedition was featured in the PBS "Changing Seas" documentary series episode "Sunken Stories".