12th National Park Service Director William Penn Mott, Jr.
May 17, 1985 - April 16, 1989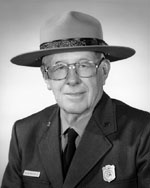 William Penn Mott, Jr., worked for the NPS as a landscape architect from 1933 to 1940 but devoted most of his later career to California's local and state parks. From 1946 to 1985 he served successively as Oakland's park superintendent, the East Bay Regional Park District's general manager, director of the State Department of Parks and Recreation under Governor Ronald Reagan, and general manager of the East Bay Zoological Society. Following his appointment as NPS director in May 1985, Mott issued a 12-point plan to protect the parks and their resources, better serve the public, and improve the service's management. He took a strong interest in park interpretation and returned the NPS to a more expansionist posture after a near-moratorium on park additions during President Reagan's first term. When the Bush administration replaced him with its own appointee in April 1989, Mott remained on the rolls as special assistant to the western regional director overseeing planning for the Presidio of San Francisco. He died in 1992.
Last updated: February 7, 2018