Division of Fire and Aviation Management Honor Guard Participates in Granite Hotshots Memorial Service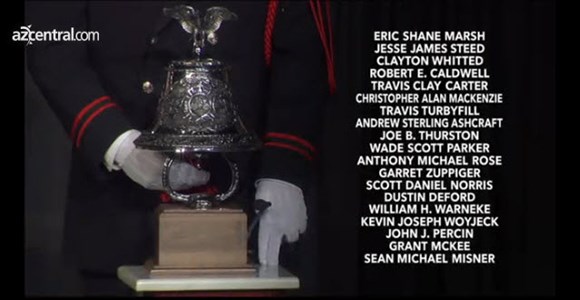 Members of the National Park Service Fire and Aviation Honor Guard and a National Park Service representative participated in the July 9th memorial service honoring the Granite Mountain Hotshot Crew in Prescott, Arizona. Nineteen members of the twenty-person hotshot crew from Prescott were killed on June 30th on the Yarnell Hill fire, also in Arizona.
Honor guard representatives included its commander, Jim Shultz of the Fire Management Program Center, and members Paul Cerda (Rocky Mountain NP), Traci Weaver (Grand Teton NP), Dan Pierson (Grand Canyon NP), Justin Deforest (Cape Cod NS), Doug Kraus (Yellowstone NP), Forrest Ford (Denali NP), and Jason McDaniel (Lake Meredith NRA). Brent Woffinden from Intermountain Region served as the official National Park Service representative to the memorial service. Other National Park Service employees paid their respects as well.
Among the duties that the honor guard expected to participate in included folding and presenting the flag, serving as casket guards during 24-hour watch, presenting the colors at the main memorial services, and supporting memorial and graveside services at individual ceremonies.
Arizona's "home page" has additional information about the memorial event.
Contact: Bill Kaage, NPS fire director
Email: e-mail us
Phone: (208) 387-5225
Last updated: January 13, 2017