Devils Tower and Bear Legends
Learn why Devils Tower is also called names like Bear Lodge, Grizzly Bear's Lodge, and Bear's House.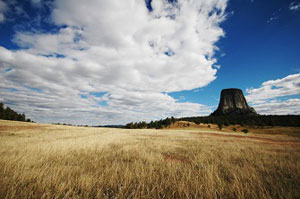 Devils Tower, the centerpiece of Devils Tower National Monument, rises high above the surrounding prairie in northeast Wyoming. This striking geologic feature is composed of phonolite, an igneous rock uncommon in the area. The site is sacred to the Lakota and other Native American tribes that have ties to the Black Hills. A Sioux legend tells the story of a Lakota band camping in the forest at the foot of Devils Tower (called Bear Lodge, Bear Lodge Butte, or Grizzly Bear's Lodge by the Lakota) when they were attacked by a band of Crow. With the supernatural assistance of a huge bear, the Lakota were able to defeat the Crow.
Other Native American tribes also evoke bears in their place names for the unique geologic feature:
Arapaho 

– Bear's Tipi

Cheyenne 

– Bear's Lodge, Bear's House, Bear's Tipi, Bear Peak

Crow 

– Bear's House, Bear's Lair
In the 1930s, first person narratives discussed the importance of Devils Tower to many Plains Indians.
Last updated: August 14, 2017