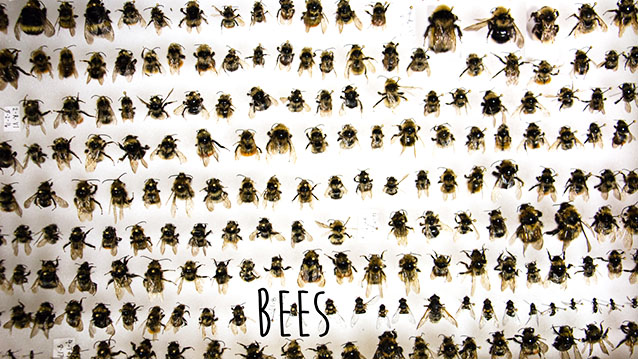 Bombus perplexus! No, that is not a confundus charm from Harry Potter.  It is a kind of bumblebee that you can find in Alaska National Parks.  We are lucky this week on #sciencedeskdigs to have visiting Denali National Park and Preserve entomologist, Jessica Rykken, tell us all about bees!
What is it? 
This is one of my many boxes of bees.  I wash them in
Dawn dish
soap and then use a blow dryer to make them look all nice and fluffy and ready for labelling.  These have not been labelled yet but there are probably about
ten
different species in this box alone.  
Most people don't realize how diverse bees are: there are close to 4,000 species known in North America, and the honey bee is just one introduced species. In just Alaska alone, there are 23 species of bumble bee which is a good thing beacause they are the heavy lifters of pollen in northern latitudes and at high elevations, including where I work in Denali.
I am working on 5 year project that looks at arthropod diversity 
along elevational gradients
i
n Denali.
Sub-a
rctic parks like Denali are particularly vulnerable to climate change so 
getting 
a baseline 
understanding of how 
of arthropod diversity 
changes across habitats and elevations 
will help us be able
to monitor changes over the years.
Insects and arthropods can be difficult for people to appreciate because they're so tiny and easy to overlook. But as pollinators, predators, decomposers, etc. they play a huge role in keeping ecosystems running and can be very useful as indicators of ecosystem health. And, they look so cool under a microscope!
Describe your workspace in one word?
Buggy? Lab space is generally cluttered with books, bugs, and pins.
To learn more about how Jessica got interested in bugs and how she prepares the bees to be put in these collections check out her
Stay Curious video
. 
Last updated: February 11, 2019