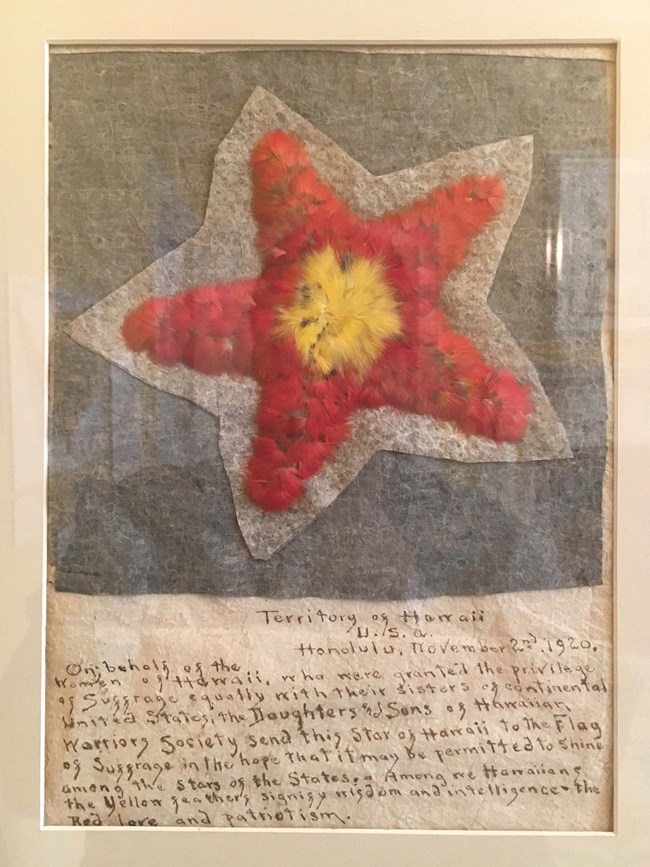 After decades of people fighting for women's right to vote, the United States House and Senate passed the 19th Amendment to the Constitution:
The right of citizens of the United States to vote shall not be denied or abridged by the United States or by any State on account of sex.
Even though Congress passed the Amendment in June 1919, it was not yet law. Constitutional amendments have to be approved, or ratified, by three quarters of the states. In 1920, there were 48 states. That meant that 36 states had to approve the 19th Amendment.
Each time a state voted to ratify the amendment, members of the National Woman's Party sewed a star on their purple, white and gold Ratification Banner. It had room for 36 stars. When the last star was added, it would symbolize that the 19th Amendment was the law of the land. The last star was sewn on to the Ratification Banner on August 18, 1920 when Tennessee voted yes.
On November 2, 1920 the people of Hawaii sent a symbolic Suffrage Star to the National Woman's Party. Because Hawaii was not yet a state, they could not vote to ratify the amendment – but Hawaiian women were granted the vote as part of the 19th Amendment. The text reads:
Territory of Hawaii
U.S.A.
Honolulu, November 2nd, 1920

On behalf of the
Women of Hawaii, who were granted the privilege
of Suffrage equally with their sisters of
Continental United States, the Daughters and Sons of Hawaiian
Warrior Society send this Star of Hawaii to the Flag
of Suffrage in the hope that it may be permitted to shine
among the stars of the States. Among we Hawaiians
the Yellow feathers signify wisdom and intelligence and the
Red Love and patriotism.
Design your own Ratification Star
… and share it with us. Send a photo of your artwork to the Rangers at
Belmont-Paul Women's Equality National Monument
– historic home of the National Woman's Party

.
Reminder to kids: When you click on a link, you may be leaving our site. Government sites that we link to also follow special rules for their youth-focused sites, but non-government sites do not have to follow the same rules. You may click to a site that will ask you for personal information, like your name, address, telephone number, or email address. Before you provide any information, show your parent or some other responsible adult what you are doing. Be safety smart! For more information, visit the Department of the Interior's Children's Privacy Policy website.