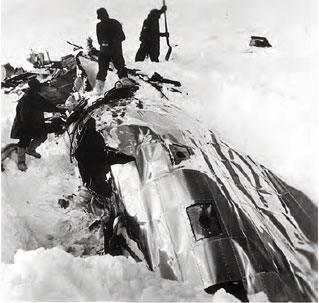 Denali National Park
On September 18, 1944, an Army C-47 left Anchorage for Fairbanks with a civilian pilot from Northwest Airlines, and 18 servicemen on board. The aircraft struck a mountain (now named Mt. Deception) 16 miles east of Denali. An aerial reconnaissance taken a few days later confirmed that all aboard had immediately perished. The Army Air Corps' Col. Ivan Palmer, however, demanded to know more details about the crash, so he asked current Park Superintendent Grant Pearson to fly over the area. After that October 2 reconnaissance, the Army asked Pearson if he could head a rescue party to the crash site. Pearson demurred, stating that it would be too risky to descend a 50-degree, icy slope for a body-recovery operation. Palmer and his higher-ups, however, explained that the son of a Congressman had died in the crash, making a trip to the site virtually mandatory; and furthermore, the military could draft Pearson for the purpose if he chose not to volunteer.
Under those circumstances, Pearson dropped everything and organized a 44-man rescue expedition. On October 10, he and others boarded two military "snow tractors" and drove through a blizzard to Wonder Lake; they then headed south to McGonagall Pass and on to the upper Muldrow Glacier. Recognizing that most of his expedition members had little winter expedition experience, Pearson asked experienced climber Bradford Washburn, camped at nearby Wonder Lake, to lend a hand, and on November 1 the snow tractor brought Washburn up to Pearson's camp. the two men led a party of twelve over the Alaska Range and, clinging onto ropes, down to the crash site. The men found undisputable evidence from the crash—blood on the fuselage, a canvas suitcase, a whiskey bottle, and other items—but a recent ten-foot snowfall frustrated all attempts to locate any of the victims' bodies. The men then retraced their steps to Muldrow Glacier, where the remainder of the test expedition crew was camped. They then continued onto Wonder Lake. After that, Pearson and his team were flown back to Elmendorf Field. The last of the expedition arrived there on November 24, almost two months after the rescue effort began.
In January 1945, the Army memorialized the crash victims with a Ladd Field service, after which it flew a plane over the crash site and dropped three floral wreaths onto the snowbound landscape. Pearson was later lauded for his exemplary efforts in leading the dangerous expedition; the NPS gave him an "especially meritorious promotion" in mid-March 1945, and in April 1947, the Army awarded him a Medal of Freedom.