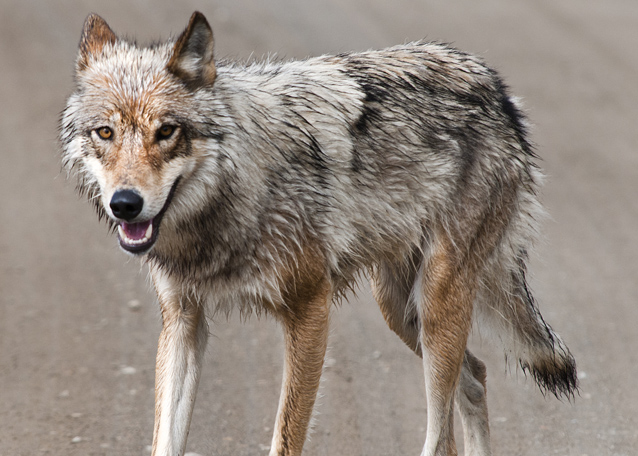 The bus driver broke the silence, announcing by microphone, "There's a wolf ahead, and it's coming this way." As shuttle bus passengers reached for their cameras, she began to whisper, "There's a second wolf too. Get your windows down, and stay quiet."
The first wolf was gray with a few reddish streaks at his muzzle and ears. He trotted with lanky, effortless strides, fur slightly furrowed with the drizzle. He hesitated only briefly before passing alongside the bus, eyes forward, ignoring the open windows, clicking cameras, and the wide-eyed, awestruck viewers. His large GPS (global positioning system) collar indicated he was the alpha male—previously captured and collared to track his movements. The second wolf was red on the face and legs, and a bit more wary—she turned to look at the bus with piercing yellow eyes. In a few moments, both wolves were gone, but the spell of silently watching wild wolves—their gait, their fur, their yellow eyes— lingered for the rest of the bus trip.
Special wolf viewing opportunities such as this may decrease in the future.