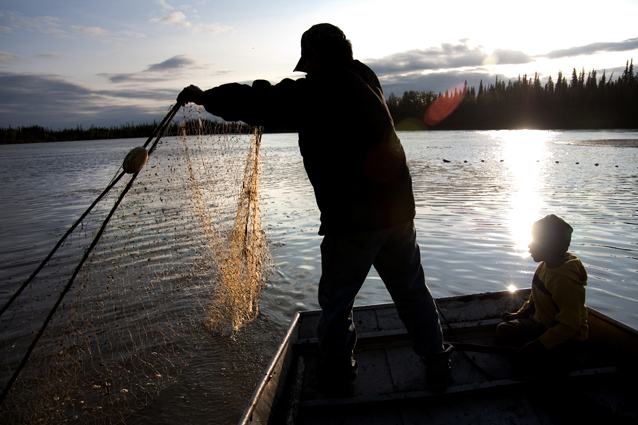 Once Nick had the flat-bottomed boat purring down the South Fork of the Kuskokwim away from Nikolai, his family knew they were really going to fish camp. They had been looking forward to fish camp all year. They would stay there as long as the fish were running. While they would catch fish with nets and floats set in the river, the July journey to fish camp also allows them to visit with other family members, recount stories of previous summers at camp, and gather around the campfire where Olene cooks the freshly-filleted fish and the gathered wild greens.
At fish camp, they live mostly outside, practicing a subsistence lifestyle away from the stresses of the village. Young grandson Josh learns that fish camp is a source of pride and enjoyment. Helping with the fish rack or playing with a bow and arrow at fish camp helps reinforce his Native identity. Tradition is being passed to the next generation.
For many rural residents, such as Nick and his family, but also for many rural non-Natives utilizing natural resources in and near Denali National Park and Preserve, subsistence ensures more than survival. It sustains a way of life.