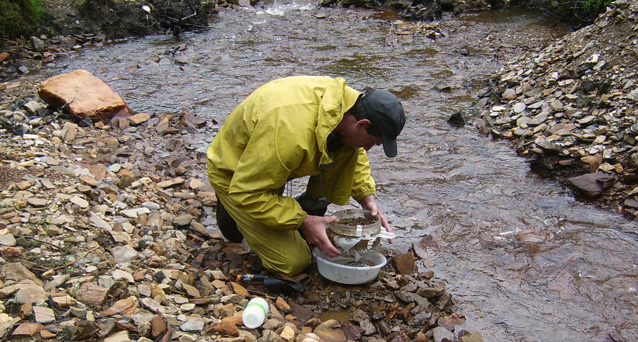 Gold may have drawn miners to "them, thar" Kantishna Hills in the early 1900s, but the notoriety of the Kantishna Hills Mining District also extended to antimony lode deposits. Over half of Alaska's antimony production from the 1940s and 1950s came from this region, and the Stampede Mine (now within Denali National Park and Preserve) is Alaska's historically largest antimony producer.
What is antimony?
Antimony is an element with the symbol Sb (stibium is Latin for "mark" and antimony has been used in products such as paint that leave a mark). Antimony can take on a variety of oxidation states (chemical forms), most commonly Sb(III) and Sb(V). Each form has different reactive properties that directly affect how Sb combines with other elements, as well as its likelihood to be transported downstream via water or stream sediment.
At Stampede Mine, the orebody containing antimony is composed primarily of massive stibnite (antimony combined with sulfur (Sb2S3)) and other sulfur compounds containing iron or arsenic (pyrite (FeS2) and arsenopyrite (FeAsS)). The orebody is "hosted" in Precambrian to Paleozoic metamorphic rocks.