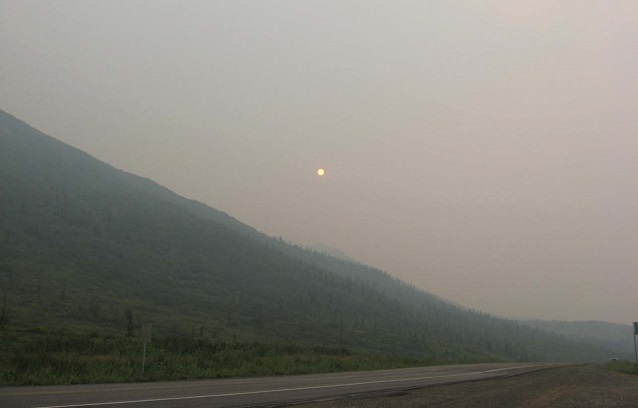 A thick blanket of haze obscured the park's landscapes, except the very closest ridges. An acrid smell hung in the air and accosted the nose. The Friday Ridge hike off ered to lodge guests in Kantishna was abandonned for less strenuous activities. Many questions were voiced by both visitors and park employees about where the smoke was coming from. By the end of the summer, people were defi nitely fed up with the smoke, and didn't care if it was natural or not. Visitors found an encounter with smoke can be downright frustrating, if smoke prevented views of "the mountain" they hoped to see. Local residents were more aware of the risk of wildfire and were concerned about their homes. The fire situation was in the news every day. A fi re staff person working in Alaska reported "There was so much smoke, it was like walking into a wall when going from being indoors to outside. When I went outside, I immediately had the urge to turn around and go back in. It was that bad."
That was the situation in 2004, when smoke arrived and lingered in Denali National Park and Preserve for many weeks even though there were no wildland fires burning within the park. That summer, hundreds of wildland fires in Alaska burned a record 6.7 million acres and smoke was pervasive across Alaska.
In contrast, the summer of 2008 was a wet summer, few wildland fires burned, and smoke was not an issue. Who knows what the next season will be like and if smoke will be part of the scene? Smoke is, however, a part of most Alaskan summers.