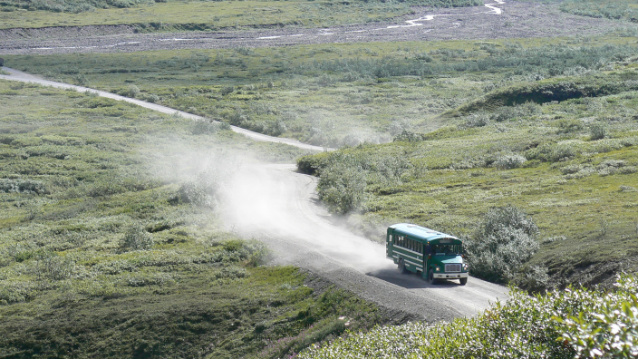 In 1986, Denali National Park and Preserve established a limit of 10,512 vehicle trips on the park road during the core summer season. Vehicle use has reached this limit, and the capacity of this vehicle allotment to hold more visitors is limited. With visitation increasing, the park has been pressured to defend or change this limit. In 2006, Denali managers initiated a scientific study to better understand the impacts of traffic volume and traffic patterns on the park's physical, biological, and social environment.
Synopsis of research 2006-2009
Biologists studied wildlife movements near the park road in 2006 (20 GPS-collared bears) and 2007 (20 GPS-collared Dall's sheep). Traffic counters monitored road traffic at several locations from 2006- 2009. Social scientists conducted surveys of park visitors about their park road experience (in 2006, they gathered qualitative information about visitor experiences, and used this information to ask specific questions in 2007, in order to select indicators and standards for a visitor's park road experience). Traffic patterns were monitored beginning in 2006 by installing 130 GPS units on buses and 40 units in NPS vehicles traveling the park road. Beginning in 2007, bus drivers on 20 buses voluntarily used touch screen panels to record information about stops along the park road (e.g., wildlife, passenger drop off and pick up). Researchers gathered information about dust and sound along the park road in 2008 and 2009. A comprehensive model of park road traffic has been developed to predict the effects of changes in traffic volume and timing on visitor experience and wildlife movements.