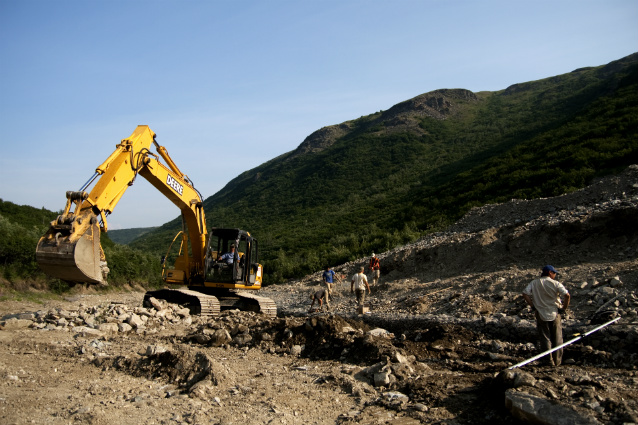 The early stampede (c. 1905) of fortune seekers to the Kantishna Mining District subsided quickly, yet mining continued intermittently there through 1985. Early miners sought color in Kantishna with gold pans and patience, later others developed more mechanized and larger volume mining, bulldozing streams to move large amounts of gold-laden gravels, or excavating hard rock mines. While some miners cleaned out their camps and put lands back closer to a pre-mining state before they moved on, some abandoned their dreams—along with their heavy equipment and the debris of living in mining camps. Part of the legacy of Kantishna mining was holes in the hillsides, non-functional floodplains, and streams downcutting and eroding banks and tailing piles.
Only massive restoration efforts could begin to fix the visible and invisible scars of mining on the stream ecosystems in Denali National Park and Preserve. The goal of restoration activities in Kantishna is to restore damaged stream reaches to some semblance of healthy stream function, including improved water quality, riparian habitat (vegetation), and aquatic life.
Restoration activities in Kantishna
Restoration activities typically include removing hazardous materials, contaminated soils, and abandoned equipment; reconstructing fl oodplain and stream channel structure; stabilizing stream banks from erosion; and revegetating the site. To evaluate restoration success, restoration also includes long-term monitoring of measures of stream function. To address this large-scale restoration need in Kantishna, the park received NPS funds for work in 2008-2011—prior to 2008, funding for restoration was limited and intermittent. Major eff orts are focused on Glen Creek (2009), Caribou Creek (2010), and Slate Creek (2010 or 2011), while smaller projects may occur at Eureka Creek, Moose Creek, and Crooked Creek. In addition, funds from the American Recovery and Reinvestment Act (ARRA) were appropriated to safely close an adit (opening) at the Comstock Mine.