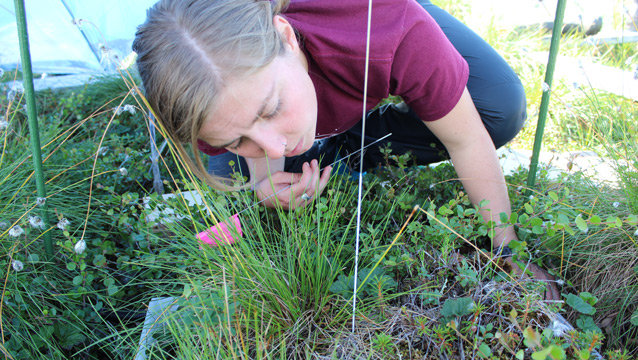 Subarctic environments such as Denali National Park and Preserve's tundra and boreal forest, have undergone drastic changes over the past few decades, likely as a result of a changing climate–increasing temperatures. Because Denali lays at the southern limits of permafrost, the average temperature of the park's permafrost hovers just below freezing, making it particularly sensitive to thawing with just a small increase in mean annual temperature. Warmer temperatures are expected to thaw permafrost, which will greatly affect ecosystems locally. But one of the farthest–reaching consequences of climate change in northern ecosystems may be the effect of thawing permafrost on the global carbon cycle.
Net Balance of C
More than 50% of global terrestrial carbon (C) is stored in permafrost regions as soil organic matter. Carbon naturally enters any terrestrial ecosystem by photosynthesis, since plants take in carbon dioxide (CO2) from the atmosphere as they grow. Carbon returns to the atmosphere CO2 from the metabolic respiration of plants, animals, and microbes (bacteria). In water logged areas carbon can also be released in the form of methane (CH4). The ecosystem carbon balance is the difference between carbon uptake and emissions.
When carbon uptake by plant growth is greater than carbon emissions by metabolic respiration, the ecosystem is a carbon sink, meaning that atmospheric C is stored in biota and soils. When carbon emissions are greater than carbon uptake, the ecosystem is a carbon source, meaning that carbon from the ecosystem is released (from biota and soils) to the atmosphere.