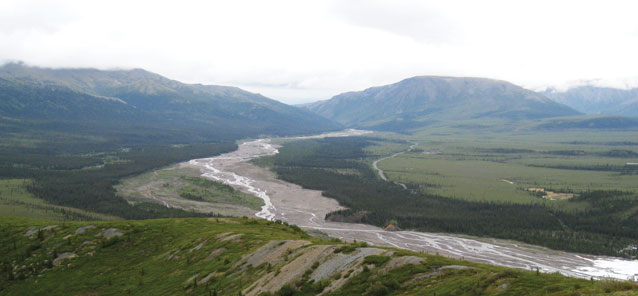 Modern Alaska began to form hundreds of million years ago as the precursor to the Pacific tectonic plate slowly moved northward. It brought with it fragments of the earth's crust that fastened onto the edge of the North American plate as the Pacific plate was subducted (thrust under it); these newly-fastened fragments are called accreted terranes.

Alaska resulted from an assemblage of these crustal pieces from the Pacific and other plates. As the Pacific plate continued to subduct under this amalgamation of terranes, immense forces wrinkled and rumpled these terranes northward, causing the buckling and uplift of rocks that would eventually become the Alaska Range.
Studying Faults and Mountain Building
Today, the Pacific plate continues to move. As the plate moves, deformation and uplift of the Alaska Range continue as well. Deformation occurs most easily along the major fault systems that are the boundaries between terranes. Many major faults occur in and near Denali National Park and Preserve—and in the entire Alaska Range—because many terranes have boundaries in this region. Two of the largest faults in the Alaska Range are the Denali and Hines Creek faults. Geologists interested in how the mountains of the Alaska Range (and other mountain belts) develop can study rocks along these fault systems.
The Denali and Hines Creek Faults
The Denali fault extends for over 3,000 km (1,900 miles) through the Alaska Range and into the Yukon Territory of Canada. A magnitude 7.9 earthquake occurred on the Denali fault in 2002 (see map), less than 100 km (62 miles) from the park.