Denali Provides Job Shadowing for Local Students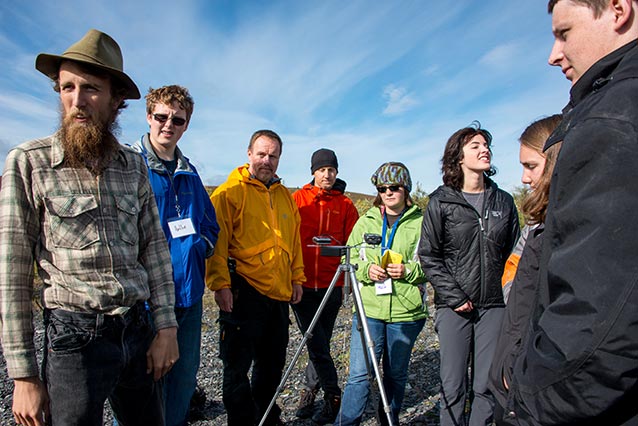 In late August, 2014, Denali National Park and Preserve hosted a week-long "Intensive" learning program for all 57 high school students in the Denali Borough.Students spent the week engaged – hands-on – in the complexities of how and why the National Park Service works to preserve and protect Denali. 
Each student was immersed in one of seven Intensive subjects: Biological Sciences, Building Trades, Cultural and Social Sciences, Media, Physical Sciences, Trail Crew, and Visitor and Resource Protection.  Activities ranged from patrolling Denali with backcountry rangers to helping botanists see if treeline is creeping uphill as the climate warms. Some students helped the trail crew build elevated walkways while others took sound recordings and debated what level of human-caused sounds in national parks is 'too loud'.  The Media group produced safety videos for the park's thousands of online fans, while the Biological Sciences team tracked wildlife sightings from park buses in order to quantify what visitors experience during park outings.
At the end of the week, the students gave community presentations showcasing their new knowledge and highlighting why Denali is special and valuable for future generations. 
Denali hopes to offer the Intensive program to high school students from Denali Borough and surrounding communities annually from 2014 through the Park Service Centennial in 2016 and Denali's 100-year anniversary in 2017.
An inspiring 3.5-minute video features interviews conducted during the Intensives in which students articulate their personal connections to Denali. The Intensives also received extensive media attention, including the following videos and articles:
KTVA 6p news story on subsistence hunting with atlatls
KTVA 6p news story on Sound Monitoring Intensive

Fairbanks News Miner story on Intensives
KTVA 6p news story on Trail Crew Intensive
Faribanks News Miner story on Trail Crew Intensive
Led by the Denali education team, a group of more than 30 park staff organized and instructed the Intensives. Alaska Geographic partially funded transportation for the students, with all other costs covered by the National Park Service. 
Last updated: January 9, 2015