Artifacts preserved in snow and ice offer an unparalleled view of prehistoric life.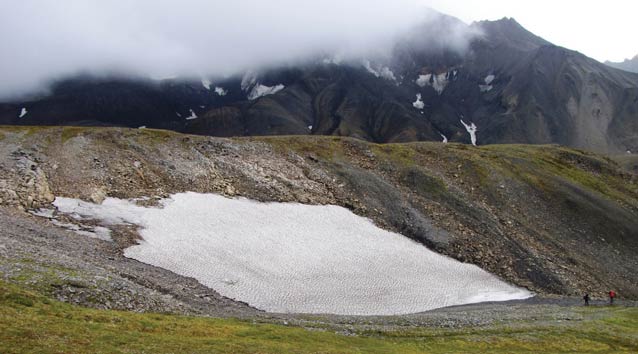 Archeologists have determined that humans have been living and hunting in what is now Denali National Park and Preserve for at least 12,000 years. Early hunter-gatherers exploited resources throughout the Alaska Range including Dall's sheep, herds of migrating caribou, small mammals, and waterfowl. Caribou and sheep tend to congregate on alpine snow fields and ice patches during summer months to cool off and to evade plaguing insects like mosquitoes. As a result of this predictable behavior, these animals made themselves targets for human hunters, who occasionally lost or left behind a piece of equipment at these locations. Within the last decade, archeologists have begun to discover pieces of arrows, atl-atl darts, projectile points, baskets, and other artifacts at these ice patch locations throughout North America and in other national parks in Alaska.


The Significance of Ice Patch Artifacts
Artifacts preserved in snow and ice offer an unparalleled view of prehistoric life, because they frequently include the organic components of hunting tools, e.g., wood shaft, feather fletching, and organic paint, in addition to the more resilient chipped-stone elements, e.g., projectile points. The context of ice patch artifacts is also exemplary because they are recovered in the location where they were used, in association with well-preserved biological remains of the species that were hunted.

This reservoir of archeological and paleontological information is in grave danger of destruction due to global climate change.


The Urgency of Ice Patch Archeology
Global cimate change is destabilizing glaciers and perennial snow fields and ice patches throughout western North America, including Alaska. The simple, incontrovertible fact that ancient materials are being found in association with these features demonstrates these once-stable environments are experiencing atypical melting. Once free of the preservative snow and ice, these incredibly fragile and rare artifacts and paleobiological samples begin to decay and are in danger of loss due to erosion or theft.

Park managers at Denali National Park and Preserve have been proactive in identifying and surveying the ice patch resources most susceptible to this type of impact. The potential for ice patch discoveries in the park was first recognized by archeologist Brian Wygal during a parkwide archeological survey (2005- 2008); however, a survey of prospective locations in 2007, which was hampered by late lying snow, did not identify any archeological material.


Ice Patch Survey at Denali
In the summer of 2009, then Park Archeologist Jeremy Karchut and Dr. Craig Lee (University of Colorado - INSTAAR) teamed up with Dr. E. James Dixon and Nicholas Jarman (University of New Mexico) to conduct the first survey in Denali dedicated to ice patch archeology. In this first season, they focused focused north of the Alaska Range.

The project began with a review of topographic maps and IKONOS imagery to find potential ice patch locations to target for overflight and on-the-ground surveys. Even though hampered by low clouds with poor visibility above 1,800 meters (6,000 feet), Lee and Karchut were able to take a fixed-wing reconnaissance flight over potential survey areas. Weather delays constrained the number of areas archeologists could reach for on-the-ground surveys, but they were able to acquire baseline data at six locations during two half days in mid-August. The surveys consisted of walking on and around the ice patch, favoring the forefields of each ice patch (area down slope of the ice), where artifacts melted out in any previous seasons may have settled.
Ice-Patch Findings
During flight reconnaissance, it was clear the target ice patches at the lowest elevations were completely melted, and appeared to have been so for a long ago time, based on the presence of extensive vegetation in the foot print of the now extinct ice patch. Broad, lower elevation topographic features, such as the area northwest of Peters Dome looked promising on the maps and because they attract modern caribou herds, but the overflight revealed that they are too low to maintain permanent ice. These low areas may experience too little precipitation or too warm a temperature or both. Low elevations on the north side of the Alaska Range may not be ideal for the formation and continuance of stable snow and ice features, because of their location in the "snow" shadow of the Alaska Range.

The higher elevations contained permanent snow and ice, but many of these patches were too steep for animals to have congregated on, and/or were too numerous to focus animals at a predictable, specific location for ancient hunters to target.

During on-the-ground surveys at the six ice patches with the highest potential for finding artifacts, Lee and crew discovered that the forefields of these patches were still covered with snow from previous winters, most likely 2007-2008 and 2008-2009. The relatively fresh snow covering these ice patches is likely impermanent and these areas will hopefully be resurveyed under conditions more favorable for finding artifacts (lower than average winter snowfall followed by warmer than average summer temperatures).

No artifacts were found at these ice patches, but caribou and sheep and/or their remains (scat, bones, hair, tracks) were observed at all six of the ice patches. By documenting that sheep and caribou have used these ice patch areas, the survey confirmed the potential for productive ice patch archeology under the right melt conditions.
Future Prospects
Archeological discoveries elsewhere in Alaska and Canada suggest Denali should continue to assess the potential for ice patch archeology in the park. This research is important to Native Alaskan groups whose cultural heritage is represented by the artifacts, and to the general public as a tangible result of global warming. Park managers at Denali and in other parks in Alaska recognize their responsibility for these special resources. Scientists will continue to work with park managers to facilitate surveys and share important discoveries.

A changing climate will continue to impact ice patch resources in Denali. Future surveys are planned for the south side of the park and for revisits to the most promising areas on the north side. Archeologists intend to be ready for fieldwork when the ideal combination of factors creates a good artifact-finding season at Denali's ice patches.
Acknowledgments
This study was funded in part by a Discover Denali Research Fellowship from Denali Education Center through the MSLC, with additional support from the Cultural Resources Program at Denali National Park and Preserve.
Last updated: August 16, 2023