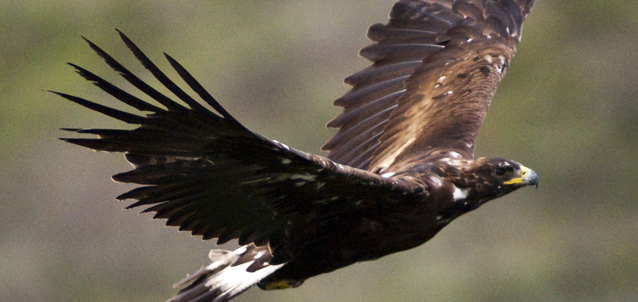 "One back leg of a Dall's sheep lamb. One arctic ground squirrel carcass. Some willow ptarmigan feathers. Four snowshoe hare legs. Another ground squirrel." A wildlife biologist, who rapelled down the rock ridge to the untidy stick nest of a golden eagle, is calling out the various food items that are scattered around the perimeter of the nest. The field assistant records what the adult eagles have been feeding to their nestlings, and this tally becomes part of the growing data set on golden eagles in Denali National Park and Preserve.
Carol McIntyre, is the biologist, and she and her research colleagues have been asking and answering many questions about the nesting and migratory ecology of golden eagles at Denali since 1987. The tally of carcasses helps answer such questions as: What is the diet of golden eagles in Denali, and does it change appreciably from year to year?
Other questions that the researchers have posed include: In what kind of landscapes do eagles build their nests? What percentage of nest territories are occupied by pairs of golden eagles each year? How successful are golden eagles at producing eaglets? How do food supply and other factors affect golden eagle success at fledging young? How long do fledged young depend on their parents? Where do young eagles go when they leave Denali? How and where do sub-adult eagles spend their days before entering a breeding population?
McIntyre and her collaborators are also learning how the habits of Denali's birds may be different from those of golden eagles that nest at lower latitudes. For example, while the nesting densities of golden eagles are higher in Denali than most other places this species has been studied, the reproductive success of eagles in Denali tends to be lower.