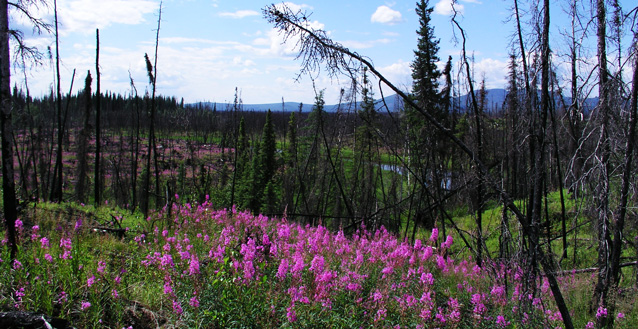 Wildland fire is one of the most influential natural processes shaping the boreal ecosystems of Denali National Park and Preserve. Wildfires are not frequently visible from the park road, yet nearly one-seventh the area of the park—more than 330,000 ha (830,000 acres)—has burned in and near the park since the 1950s.
Fire-adapted ecosystems in Denali include black and white spruce forests, mixed aspen-birch-spruce forests, and tussock-shrub tundra. Fire maintains this landscape, which, when viewed from above, often resembles a patchwork of burned and unburned areas. Large natural fires occur almost yearly in the fire-prone lowland black spruce forests of the Minchumina Basin—in Denali's northwest corner.
In Denali and elsewhere, fires can change vegetation structure and composition, wildlife habitat, permafrost dynamics, nutrient cycling, and biodiversity. Burn severity strongly influences vegetation patterns and succession after fire—a highseverity burn may kill trees or shrubs at a site, while a low-severity burn may just singe or top-kill plants. In addition, the natural fire regime (i.e., fire frequency, fire extent, and severity) responds to local and global climate changes. Understanding fire and its role in the landscape helps park managers make decisions and institute practices that help maintain natural fire and balance the risks and benefits of fire.