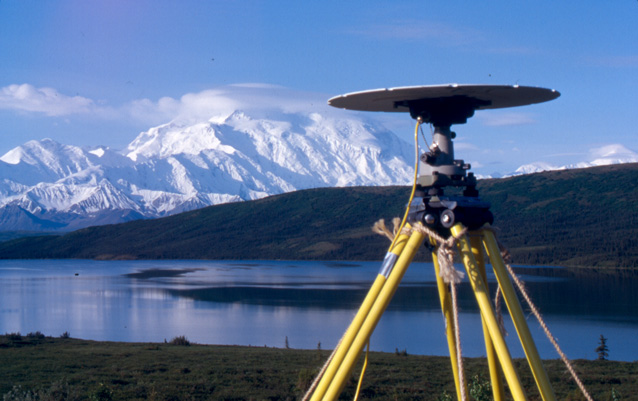 Alaska is the most geologically active part of the United States. Ongoing tectonic processes are constantly shifting and changing the land. The Denali Fault, the fastest moving and most active fault in Interior Alaska, cuts through the heart of the Alaska Range and Denali National Park and Preserve. Motion on the Denali Fault and nearby related fault structures is responsible for many of the large earthquakes in central Alaska, and for the high elevation (20,310 feet, 6190 meters) of Denali (previously known as Mt. McKinley) that dominates the park landscape. Most people in Interior Alaska were reminded of the fault's earthquake potential when it ruptured on November 3, 2002. Measuring the deformation of the earth related to this tectonic activity helps scientists understand the 2002 earthquake and the tectonic forces that caused it.
The Denali Fault and Earthquakes
The November 2002 earthquake had a magnitude of 7.9 and caused a surface rupture 325 km (~200 miles) long, mostly on the central Denali Fault (see red line on map below). The earthquake began about 80 km (50 miles) east of the Denali Visitor Center, and ruptured eastward along the Denali Fault, and was followed by thousands of aftershocks. The earthquake caused an offset of nearly 6 meters (20 feet) where it crossed the Richardson Highway and Trans-Alaska Pipeline. The largest surface offsets of 8.8 meters (29 feet) were observed farther to the east. Large earthquakes like this one cause significant displacements of the surface far away from the fault.
Although people tend to view the Earth as static and stable between earthquakes, every point is actually moving slowly as Earth's tectonic plates move around. Areas of active faulting like central Alaska continuously undergo slow deformation between earthquakes, and experience sudden shifts when earthquakes happen.
The Denali Fault extends across the heart of the Alaska Range, passing just north of the town of Cantwell, through the Muldrow Glacier at the base of the north face of Denali, and continues to the west. The section of the fault in the park is just as active as the section to the east, and at some point in the future it will also break in a large earthquake. Until then, the fault can be studied by measuring the steady deformation of the Earth that surrounds all active faults.