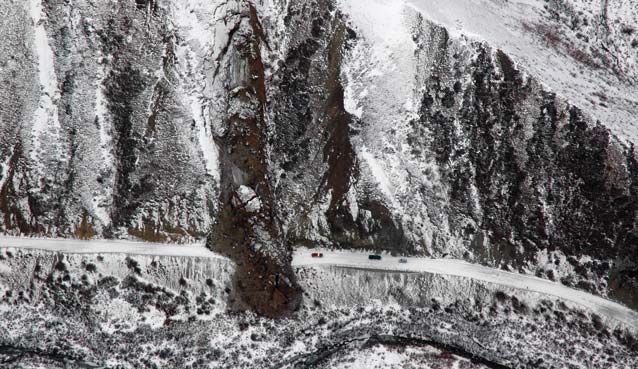 By mid-October in 2013, the vibrant colors of autumn were all but gone. Park staff had closed operations at Wonder Lake, Eielson Visitor Center, and the Toklat road camp, and the Denali Park Road was ready for winter silence under snow. On October 23, Brad Ebel and Tim Taylor, the park's road supervisors at the time, headed west for a final check of road conditions. They drove no farther than Mile 38, near the western edge of Igloo Canyon, where their passage was blocked by a colossal pile of soil, gravel, icy mud, and clay, topped by a recent dusting of snow. A massive debris slide had crossed the road.


Immediate Actions After Debris Slide Discovery
When did the slide occur? The last confirmed day that someone had driven successfully past this point was October 12, so park staff were able to narrow the date of this event to a span of less than two weeks.

Park geologist Denny Capps and several other geologists drove to the site, while the park pilot and other staff flew above it, to photodocument the conditions, make measurements of the event, and attempt to determine its underlying causes and any specific trigger that set the debris slide in motion. Once staff determined the hazard was manageable, crews cleared the road October 25-28. They worked 12-hour days, with flood lights as needed, to avoid having a frozen mass at spring road opening.