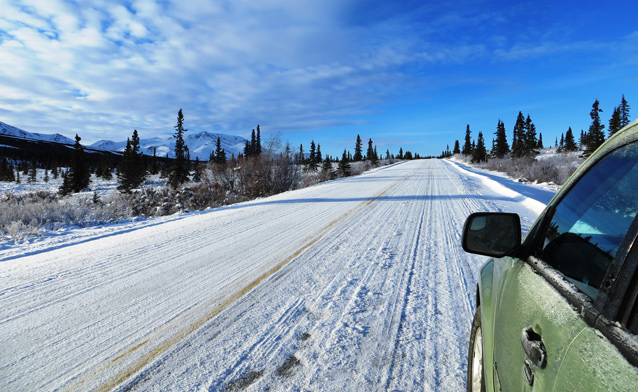 In June 2013, the NPS approved a Winter Plowing Environmental Assessment (EA) plan to open the Denali Park Road about one month earlier than the traditional opening date. As part of the plan, the road will be opened to the Mountain Vista Rest Area at mile 12.6 by mid-February each year for a 3-5-year trial period. During this time, park staff is monitoring soundscapes, wildlife sightings and behavior, and visitor use levels and documenting costs associated with opening the road early. After the trial period, park managers will assess the costs and benefits of a winter road opening for subsequent years.
Methods
The Road Ecology Program (REP) oversees the collection of wildlife observation and traffic use data during the trial period. The winter plowing monitoring period extends from mid-February when the Park Road is opened to the public to Mountain Vista Rest Area to the Sunday closest to March 15, which is the estimated date when normal spring plowing operations would begin. The monitoring dates for this report were:
2014: February 15 (Saturday) to March 16 (Sunday) – 30 days
2015: February 14 (Saturday) to March 15 (Sunday) – 30 days
Wildlife Behavioral Observations
Visitor Resource Protection (VRP) Rangers and REP staff used Trimble Juno GPS (Junos) units to record data on wildlife sightings including species, number, location, and general behavior while traveling the Park Road from headquarters (mile 3) to Mountain Vista and back to headquarters. VRP Rangers collected information as part of their regular patrols and REP staff roved to Mountain Vista 2-3 times on scheduled sampling days during daylight hours.
In addition to the Juno data, REP staff conducted fifteen minute wildlife behavior observations using protocols modified from previous NPS studies of wildlife behavior. Sightings and behavior of the following wildlife species were recorded within 500 meters of the park road: moose, caribou, wolf, Dall Sheep, grizzly bear and other notable wildlife (e.g., lynx,).
Visitor Use Monitoring
In 2014 and 2015, REP staff monitored vehicle traffic at the Mountain Vista Rest Area for 30 minutes prior to returning east during scheduled wildlife roves. They recorded the number of parked vehicles in 15 minute intervals by vehicle type (commercial, government, private vehicles, and heavy equipment). The count included vehicles in the new "musher's parking lot" west of Mountain Vista in 2015, and did not include the government monitoring vehicle. Information on outside temperature and number of idling vehicles was added in 2015.
Estimates of overall traffic use were obtained using motion sensor cameras along the Park Road. In 2014 and 2015 a west facing camera just past the headquarters gate was set up to capture vehicles traveling in both the east and westbound lanes. REP staff reviewed all photos and classified passing cars as heavy road equipment, government vehicles, commercial vehicles, private vehicles, unidentified, or pedestrian/non-motorized.
In 2014, the total number of vehicles captured by the camera was divided by two to estimate the minimum number of round trips past mile 3. In 2015, the estimate of round trips was made by counting only "westbound" traffic, as ground-truthing showed that eastbound traffic was often not captured by the camera.