Understanding Change: How Communities Perceive Climate Change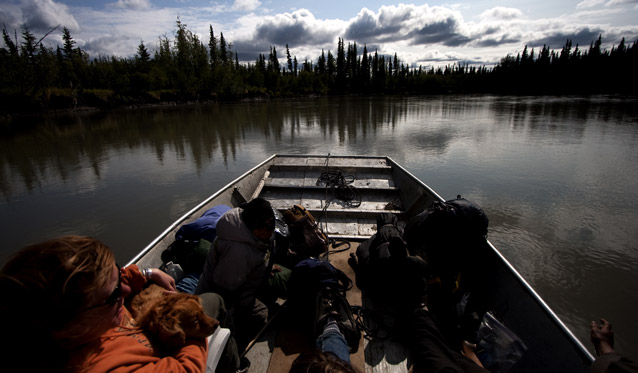 This project elicits observations from subsistence community members about climate change and identifies the challenges that climate change poses for subsistence users. This information will be valuable for understanding the challenges subsistence communities face and providing subsistence opportunities in a changing climate.
Project highlights:
Common observations of change included warming, vegetation growth, less snow, and drying ponds, while other changes were less frequently mentioned (e.g., rising fern-line, increased erosion), or had greater variation in response (e.g., amount of wind, river level).
Individuals who interact most closely with the system on a regular basis have more and different observations than those who do not (Table 1). These findings suggest that engaging multiple groups of stakeholders who interact with the park in distinct ways contributes insights about how climate change is impacting park resources and offers a broader foundation for adaptation planning.
The impacts of climate change that were most consistently mentioned included: distribution of animals (36%), wildlife viewing (28%), and changes in river access (22%). Impacts were primarily negative, although some positive impacts were mentioned (e.g., increased gardening season, easier to warm houses).
Participants provided five primary suggestions for how NPS could adapt to climate change including education about climate change (25%), maintaining a quality experience (22%), maintaining subsistence (22%), changing Park identity (17%) and continuing current monitoring (12%).
Participants described how subsistence could be supported within a context of climate change by: listening to subsistence users and taking their insights into account, allowing more regulatory flexibility for hunting and trapping, helping to support income generation for surrounding communities, and thinking creatively about how subsistence will be passed on to the next generation.
This project demonstrates that non-expert residents have different observations based on their experience with and use of natural resources. This project suggests that there may be benefits of human intimacy with protected landscapes, including memory, diversity, redundancy and information about feedbacks between social and ecological systems.
Conclusions:
The values associated with living a subsistence lifestyle were positive to the well-being psychologically, emotionally, and physically of the participants. Having a sense of connectedness to the land also brought about a sense of kinship with others not only through the act of teaching, but by sharing within families and between friends.
While all the communities studied were categorized as subsistence communities, each community was unique culturally, environmentally, geographically, historically, and socially.
Overall, subsistence hunting was used to supplement income, as both a main food source of moose and as partial income through fur trapping. The costs associated with transporting foods to roadless communities often disrupted individual's abilities to utilize outside resources, resulting in a greater dependence on community sharing and local subsistence.
It was in the outdoors that individuals felt relaxed, rejuvenated, and connected to a part of a greater system or entity that increased their feelings of wholeness.
Last updated: March 30, 2016