Willow and Rock Ptarmigan Surveys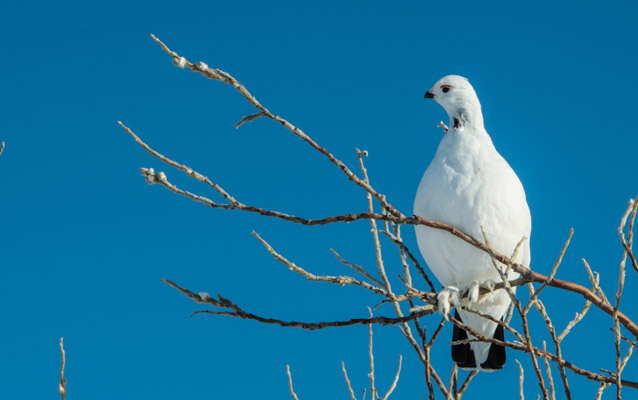 As part of their statewide monitoring program for Rock and Willow Ptarmigan, the Alaska Department of Fish and Game (ADF&G) conducts standardized surveys along and near many roadways in interior and southcentral Alaska. Beginning in late April each year, ADF&G biologists count the numbers of territorial male Rock and Willow Ptarmigan that respond to a broadcast call at fixed survey locations along a series of survey routes from the Steese Highway to the Kenai Peninsula. Data from these surveys provides useful indices to help ADF&G monitor Rock and Willow Ptarmigan populations.
In 2014, ADF&G established several survey routes for both species in Denali National Park and Preserve, Alaska to be able to compare survey results with an adjacent area along the Denali Highway that receives considerable hunting pressure. These surveys will complement ongoing surveys conducted by the National Park Service in Denali through the Central Alaska Monitoring Network.
The ADF&G Willow Ptarmigan survey route begins 0.5 km west of the Savage River Bridge on the Denali Park Road and has 13 sampling points placed approximately every 0.8-1.0 km. ADF&G biologists counted 10 territorial male Willow Ptarmigan on the route on 3 May and 8 territorial males on the route on 8 May 2014. The Rock Ptarmigan survey route is about 0.6 km off the Denali Park road on the south side of Primrose Ridge and has 7 sampling points placed about 0.7 km apart. ADF&G biologists counted six territorial Rock Ptarmigan males on the survey on 4 May. Approximately half of the Willow and Rock Ptarmigan males were observed with hens at the time of each survey.
These surveys will continue in Denali for four more years (2015-2018).
More Information
Carrol, C.J. and R.A. Merizon. 2014. Status of grouse, ptarmigan, and hare in Alaska, 2014. Alaska Department of Fish and Game, Division of Wildlife Conservation, Region IV Office, 1800 Glenn Highway, Palmer, Alaska.
Last updated: March 31, 2016