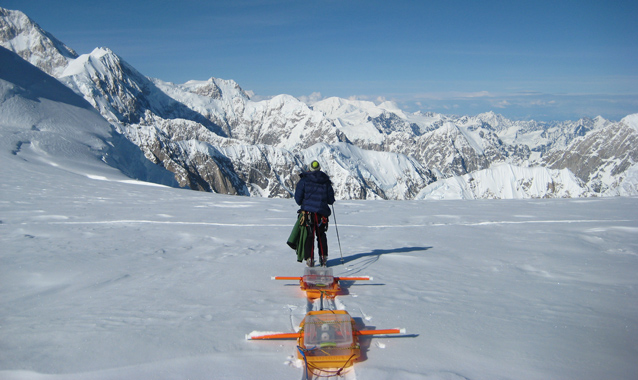 Shrinking glaciers, permafrost thaw, changing patterns of wildlife and vegetation, and dry conditions in Central Alaska and Denali National Park and Preserve have all been attributed to warming temperatures over the past few decades. Scientists and park managers would like to predict future impacts from climate change and determine if the current warming trend is a long-term or shortterm event. Because water has a significant influence on impacts from a changing climate, scientists are also trying to understand changes in precipitation.
Unfortunately, most climate records based on instrumentation (e.g. weather station data), which extend less than 50-100 years into the past, provide a relatively short time window to see patterns of climate change for comparison to current trends. For this reason, scientists rely on climate proxies—natural records that are stand-ins for long-term weather patterns. In addition to such things as tree rings, corals, and lake sediments, ice cores from glaciers are an excellent proxy for long-term climate records. Glacier ice can preserve past atmospheric chemistry, which can be related to past climate conditions.
Requirements for Selecting Glacier Ice Core Sites
Glaciers form through year-after-year snow accumulation with minimal melting. Each snowfall event piles onto the previous layers, similar to a stack of pancakes. In the stack, the oldest layer is on the bottom and the most recently deposited layer is on the top. Eventually, the compressed, deep snow condenses to form ice and the ice will begin flowing very slowly downhill as a result of gravity. The perfect ice core site would be in glacial ice that has experienced minimal melt or flow since the snow (now ice) was originally deposited. Ice melt and flow have the potential to alter the key components of ice which are useful as climate proxies—chemistry and layering.
Glacial basins, flat plateaus, or ice divides located at high elevations present the most ideal ice core sites because these regions are generally too cold for melting to occur and the ice is generally frozen to the bedrock so it experiences very little flow or deformation from its original state of deposition. In addition, the ideal ice core site must capture many years of accumulated chemical data in the depth of ice. At sites where there are low snow accumulation rates and high total ice depths, a deep ice core captures many years of proxy climate data. Glaciers cover 17 percent of the park, making it a prime location for finding an ideal ice core site. The high elevation and northern latitude of the Alaska Range also assures minimal melting and slow ice flow rates due to the cold temperatures.
Teaming Up to Find Potential Ice Core Sites
A collaborative research team from the University of Maine (Dr. Karl Kreutz and Seth Campbell), Dartmouth College (Dr. Erich Osterberg), and the University of New Hampshire (Dr. Cameron Wake) has been searching for potential ice core drill sites in the Alaska Range. The team has conducted reconnaissance for ice core drill sites on glaciers on three different mountains, using a multi-disciplinary approach of GPS systems; ice-penetrating radar; and chemical analysis of snow samples from snow pits and shallow hand-drilled ice cores.