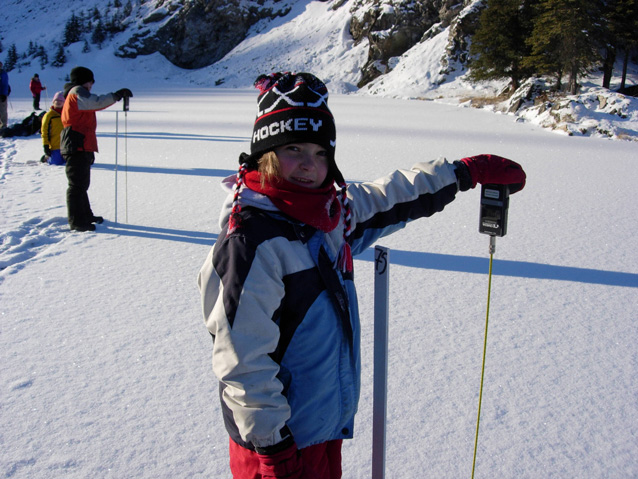 A handful of elementary students scrambles out of the bus at the trailhead to Horseshoe Lake. Bundled in snow pants and clutching equipment in mittenclad hands, the third- through fifth-graders eagerly tromp and slip along the snow-packed trail down to the frozen lake. Despite the shouts and giggles along the way, the lake is more than a fun winter field trip to Denali National Park and Preserve. It is both a research site and hands-on outdoor classroom.
Alaska Lake Ice and Snow Observatory Network
These students are engaged in a special program— Alaska Lake Ice and Snow Observatory Network, or ALISON. The project was designed as a 10-year research and education program to provide Alaska teachers and students with an opportunity to learn about scientific inquiry in "their own backyard."
ALISON was conceived by Dr. Martin Jeffries, University of Alaska Fairbanks (UAF), and colleagues as a way to monitor lake ice and snow conditions around Alaska, enlisting students and teachers to collect the data. ALISON protocols were developed by Jeffries and Kim Morris, also of UAF, in the winter of 1999-2000. The researchers wanted to create a long-term dataset that could be used to discern the impacts of global change on lake ice. The duration of ice cover on northern hemisphere lakes is a sensitive indicator of climate variability and, on average, has decreased by 20 days over the last 150 years.