WWII Cold Weather Training in Denali
By Frank Norris
This is an excerpt from Frank Norris' "Administrative History of Denali National Park" (2006, 2008).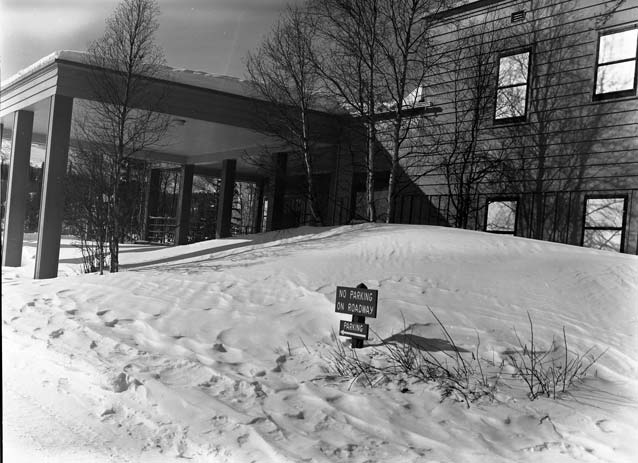 Cold Weather Testing in World War II Denali National Park


Though not yet a state, the Alaska Territory served as both America's home front and front line during World War II. While the Aleutian Islands became a battleground, war-weary soldiers took refuge in the breathtaking landscape beneath America's tallest mountain. At Denali National Park, then known as Mt. McKinley National Park, the mountainous terrain also provided the ideal place to test soldiers and equipment against the elements..

In January 1941, a former Yosemite National Park Ranger named Jack Marks took a team of dogs into Denali National Park. Marks was now a commissioned United States Army Air Corps Lieutenant stationed at nearby Ladd Field, a U.S. Army Air Corps Cold Weather Testing station. Marks brought his dog team to Denali to test winter clothing for soldiers.

One month after Lt. Marks' testing run, the head of the Alaska Defense Force, Brigadier General Simon Bolivar Buckner, Jr., arrived at park headquarters. Bucker met with Park Superintendent Frank Been to discuss military use of the park noting how the "lack of recreation for soldiers in Alaska contributes to the seriousness of the morale problem." In a scene repeated at National Park Service sites across the nation, the park superintendent and Alaska military officials wrangled for months over ways the federal lands could support the war effort without damaging the park's fragile ecosystems.


1942 - A US Army Testing Expedition

With the attack on Pearl Harbor on December 7, 1941, the United States was at war. By June of 1942, the U.S. Army Alaskan Testing Expedition, now formally organized at Ladd Field, arrived at the park for more testing. Included in the group was Bradford Washburn, a Bostonian who, six years earlier, had become familiar with the high Alaska Range during an extended aerial reconnaissance mission. Washburn was now a civilian consultant assigned to Office of the Quartermaster General as an expert on cold-weather clothing and survival. Washburn would lead several testing expeditions at Denali and go on to have a distinguished career as a cartographer, mountaineer, photographer and philanthropist.

NPS staff drove the 17-member Testing Expedition to Camp Eielson. The group then headed south, ascended Muldrow Glacier, and eventually encamped on the edge of the glacier, at the 5,600-foot level near McGonagall Pass. From there they conducted lengthy testing of cold-weather food, tents, and clothing: anything "from tents and parachutes to food rations, stoves, boots and socks."

As noted in a Life Magazine pictorial, "the purpose of the expedition was not to determine what equipment is best for expert mountain and ski troops, but what is best for ordinary American soldiers forced to fight in cold weather."

Aided and supplied by Denali Park Ranger Grant Pearson and other rangers—sometimes on foot, sometimes via horseback—the expedition remained at its camp for some six weeks, finally returning to the park headquarters on August 5. A highlight of their stay was a July 23 and 24 Mount McKinley climb in which a seven-man group reached the summit. The group included included Washburn and future University of Alaska President Terris Moore. As a result of the expedition, which was completed in early August, the military predictably approved some of the items it tested, it rejected others, and demanded severe modifications to still others. The NPS benefited by accepting the "donation" of equipment by salvaging what the Army left behind at its base camp.
1943-44 Expeditions Continue and Expand

In addition to this cold-weather testing expedition in the summer of 1942, three new expeditions were outfitted during the winter of 1943-44. Beginning on December 15, 1943, 310 Army officers and men participated in a month-long exercise "in the Talkeetna-Mount McKinley area" called the Alaskan Department Winter Maneuver. The exercise, which was tactical in nature, was also to determine the adequacy and limitations of certain standard Arctic clothing and equipment. An officer in that exercise reluctantly concluded that the Department was not in a position to conduct satisfactory Arctic or sub-Arctic operations.

On January 20, various soldiers from the medical corps headed out into the park to test "heating and lighting equipment suitable for field use during extreme cold weather conditions." They remained in the park until March 2. A month later more than 500 soldiers entering the park from the Cantwell area winter maneuvers - some on dog teams. Former Park Ranger and now acting Superintendent Grant Pearson, who mushed out to the second group, found the men "a rugged bunch capable of taking care of themselves most any place in the mountains."


An Expedition Becomes A Rescue Team

That August, Army officials prepared for a new round of equipment field testing. Plans called for a party of six men from Wright Field in Ohio to spend six weeks in "the terrain near Wonder Lake" beginning on September 10. Their mission was to test food and clothing for the Air Force. The party - which included Bradford Washburn, now Assistant to the Chief of the Army's Flying Clothes Branch, along with several military officers - did not arrive at Wonder Lake (in a pontoon plane) until approximately October 15.

But by this time, the Army had far larger concerns. On September 18, an Army Transport Command C-47 crashed with 19 aboard on the southern slopes of Mount Deception, 6 miles east of Mt. McKinley and a rescue party was mounted. After joining the (sadly unsuccessful) rescue party for two weeks, Washburn and his training party continued their cold weather gear testing. For several days they moved down Muldrow Glacier, after which they ascended Anderson Pass. They then descended West Fork Glacier and the Chulitna River's West Fork. On December 6 they reached Colorado Station along the Alaska Railroad, almost two months after arriving at Wonder Lake.

1945 - The Final Wartime Expeditions

In 1945, the Army's Cold Weather Test Section let it be known that they were interested in yet another testing expedition. In March, a five-man party flew into the park on a ski-equipped airplane and camped on a glacier at the 6,100-foot level. Decked out in "the latest type mountain equipment," the men spent the next two months testing cold weather equipment and food. They also did some surveying and mapping in the area and made a first-ever climb of a 13,220-foot peak that they named Mt. Silverthrone because of its "stately appearance at the head of Brooks Glacier."

By the time the Army's springtime cold weather expedition was underway, Alaska's role in World War II was shrinking. In early 45, general orders were that 'all unnecessary activities of the army be discontinued at once." This should have come as no surprise to those who were in charge of the camp; by this time, it had been almost 18 months since Alaska military forces had seen combat, and as a result, troop strength in Alaska had fallen from more than 150,000 in 1943 to just 60,000 in 1945.

To some extent, Alaska began to de-emphasize its strong military role soon after Allied troops drove Japanese forces from the Aleutian Islands in the spring and summer of 1943. Not long thereafter, total U.S. troop strength began to fall as part of transfers to other theaters of war, and by 1945 the number of active-duty troops in Alaska had fallen from 152,000 to about 60,000. Beginning in 1944, various civilian government agencies—the Alaska Railroad and the National Park Service included—reacted to the increasingly optimistic war news by making postwar plans.

Americans throughout the country rejoiced on August 15, 1945 (V-J Day) when the U.S. government accepted Japan's surrender terms, and on September 2 Japanese officials officially ended the war with the signing of a treaty on the U.S.S. Missouri in Tokyo Bay. On October 4, officials with the U.S. Army's Alaskan Department declared that emergency wartime travel restrictions were being relaxed.

Slowly but surely, civilian visitors returned to Denali and it would not be until the Korean War only a few years later when a large military presence would return.
References
Last updated: October 26, 2021