By Erik Johnson, Denali Historian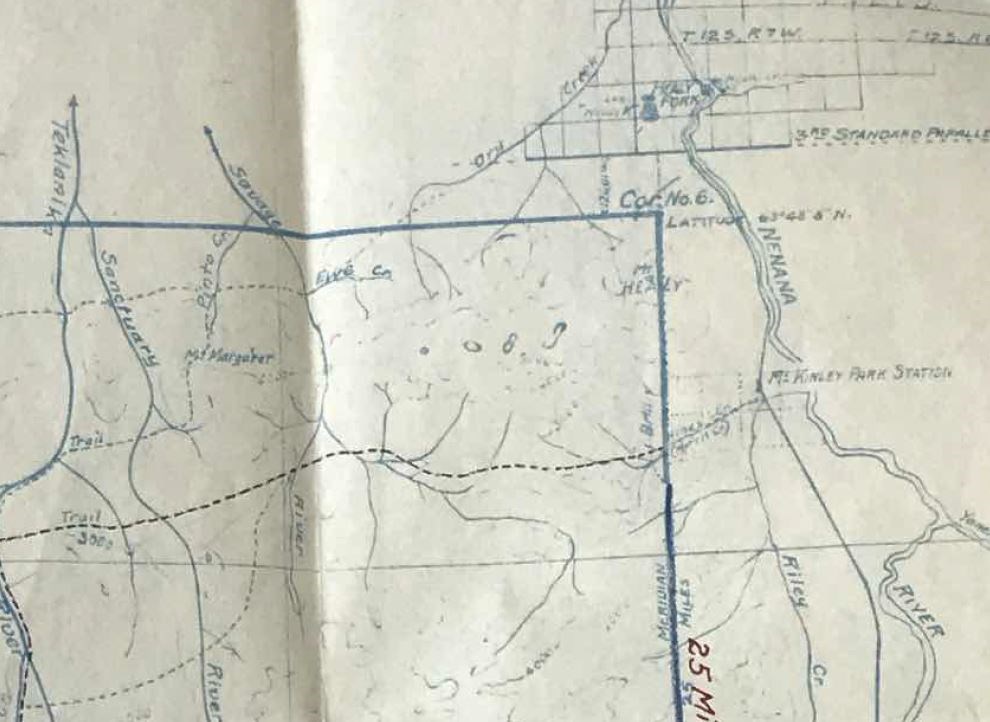 The origin of Mount Margaret's name has long been a mystery to park employees and Denali locals. Hundreds of tourists ride past the mountain (just west of the Savage River and north of the Park Road) every day in the summer. Some have long assumed the mountain was named for the most famous Margaret (arguably) in Alaska's past: Margaret "Mardy" Murie.[1]
A major source for understanding Alaska place name origins is Donald Orth's
Dictionary of Alaska Place Names
. The Dictionary's "Mount Margaret" entry simply states: "Name reported and perhaps given by Woodbury Abbey on his 1921 survey of the boundaries of McKinley National Park."
Not helpful for understanding who the important "Margaret" is, but Orth's Dictionary does provide the "Woodbury Abbey" clue. Did park boundary surveyor Woodbury Abbey know Margaret Murie in 1921? Would he have named a mountain for her?
The National Archives in College Park, Maryland contains several files related to Woodbury Abbey, including the original survey map that may have informed Orth's dictionary; "Mount Margaret" is labeled. This is the earliest known map to name Mount Margaret.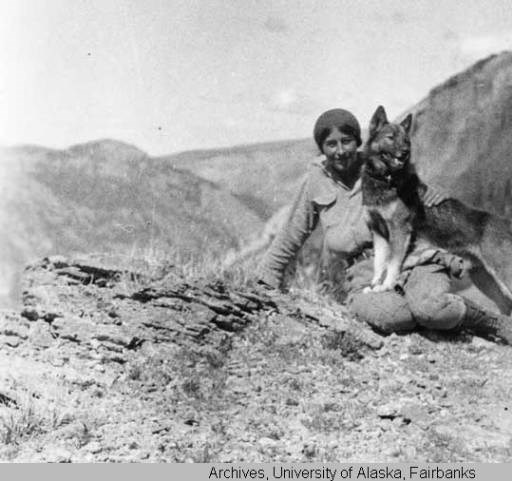 There is another piece of evidence about Mount Margaret's name that exists in a "Place Names" folder at the National Archives. The folder contains a 1934 letter from NPS Assistant Director Conrad Wirth asking Mount McKinley National Park Superintendent Harry Liek for information regarding several place names, including Mount Margaret (see figure 4). In a 1935 response letter, Liek wrote the following about Mount Margaret:

MOUNT MARGARET - Named for Mrs. O.J. Murie, nee Margaret Thomas. Murie is with the Biological Survey, Washington, D.C.
Another letter from Liek in 1938 states:
Mount Margaret situated on the left limit of the Savage River canyon in the Healy range. Named after Margaret Murie. Mrs. Murie now resides in Wyoming.
The letters seem to confirm the answer many of us have been looking for, and maybe want to believe, but there are still lingering questions.
In the summer of 1921, 19-year-old Margaret Thomas was not yet a Murie. She was dating Olaus Murie who was studying caribou near Savage River for the U.S. Biological Survey. Mardy visited Olaus at Savage River that summer and they decided to get engaged. Abbey's park boundary survey commenced that same year and it is very likely that he and Mardy crossed paths. Is it possible that Abbey met young Mardy and she made such an impression that he named a geographic feature for her on his map? Were there other Margarets in the area or in Abbey's life?[2]
I reached out to Mardy Murie's son, Don Murie, and her nephew, Jan Murie, to learn if they knew anything about a mountain being named in Margaret's honor.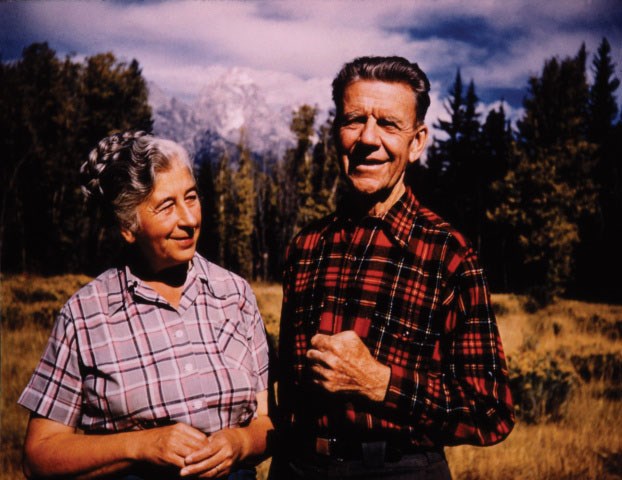 Don replied with the following:
I have certainly never heard of a mountain named for Mardy. I can't think of any possible reason for it, at that time when she was that age, unless her father had something to do with it. I have no way to prove or disprove that, but I would think naming a mountain and putting the name on maps would take some kind of official review . . . . I would suggest for now you stick to 'unknown person' until something turns up. Mardy would appreciate it.
Jan was also surprised:
I've never heard that Mt. Margaret was named for Mardy Murie. I didn't know the name went back that far (1935) . . . . I would be surprised if it had been named for Mardy Murie and I never heard anything about it while growing up.
Whether you believe the mountain was named for Mardy or not, there is no arguing that she is
one of the most significant figures
in Alaska history and conservation history. Mardy was the first woman to graduate from the University of Alaska, and was a force for land conservation. She made major contributions to the passage of the Wilderness Act, the Arctic National Wildlife Refuge, and the Alaska National Interest Lands Conservation Act. She was awarded the Presidential Medal of Freedom (the highest civilian honor) in 1998 and is unquestionably worthy of recognition this Women's History Month.
---
[1]
The Athabascan name for Mount Margaret is unknown at this time.
[2]
Woodbury Abbey's wife was named Beatrice and his daughter was Denise. The Murie brothers were known to have been opposed to having wilderness features named for humans.