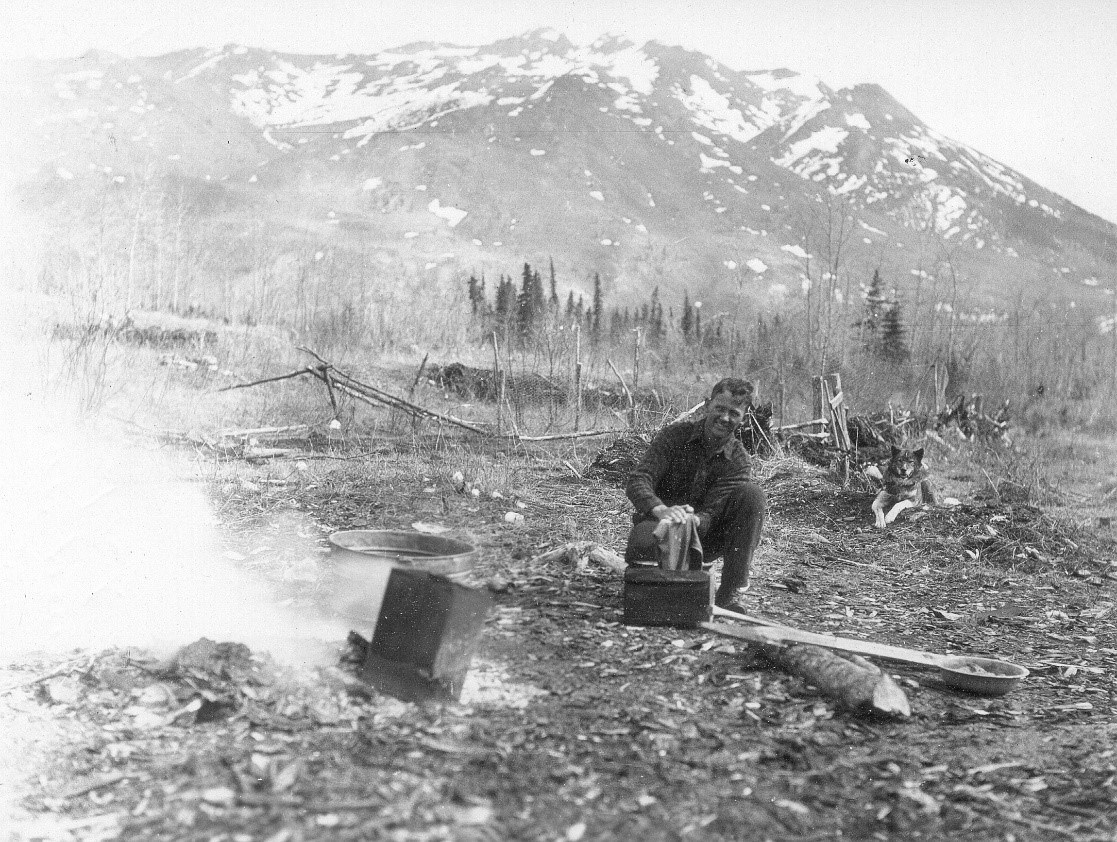 By Erik Johnson, Denali Historian
In summer of 2017, Denali archaeologists working on a Section 106 compliance survey close to the historic McKinley Park Station site discovered a piece of history: a two-inch pocket watch with the inscription "WM ALLMAN MCPARK ALASKA."
1
Who was WM ALLMAN?
William Allman led a colorful life. He came to Alaska from England and was rumored to be a "remittance man"—someone paid to stay away from his home country. Allman was probably in the McKinley Station area by the late 1920s, and by the 1930s he was working inside the Park as an employee of the Alaska Road Commission. He also operated a trapline along the Nenana River in the winter.
2
In 1930, Allman hurriedly built a log cabin just before winter about a mile and a half northwest McKinley Station. The cabin, located near Horseshoe Lake, did not last long. In a reckless effort to remove a tree stump rooted inside the structure, Allman detonated explosives and in the process blew up his cabin.
3
We will probably never know why Allman's watch was lost or discarded but one wonders if his reckless behavior led to its misplacement. The watch provides insight into the often anonymous material culture in remote Alaska during this period. It also helps us understand the tools and technology individuals used and valued while navigating their daily lives. Allman's watch is evidence of his life in the area that now occupies the main entrance of our Park, and is a tangible reminder of the community that existed but is often times forgotten.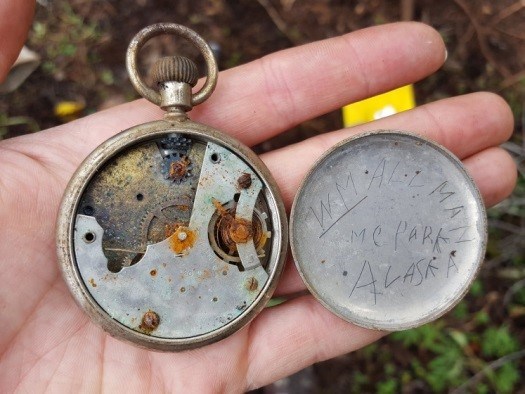 1
The McKinley Park Station settlement developed in the 1910s and early 1920s when the construction of the Alaska Railroad arrived near the eastern boundary of the recently established Park. Laborers lived in camps connected to railroad development and construction of the Park Road. Enterprising individuals also used the opportunity to make a living catering to tourists, laborers, trappers, and prospectors.
2
Tom Walker, McKinley Station: The People of the Pioneer Park that Became Denali (Missoula, MT: Pictorial Histories, 2009), 188-89.
3
Walker, McKinley Station,189; Department of the Interior, Carlisle Report from the Report Made by the Secretary of the Interior February 19, 1934 to the Claims Committee of Congress, Washington, DC, 1934.