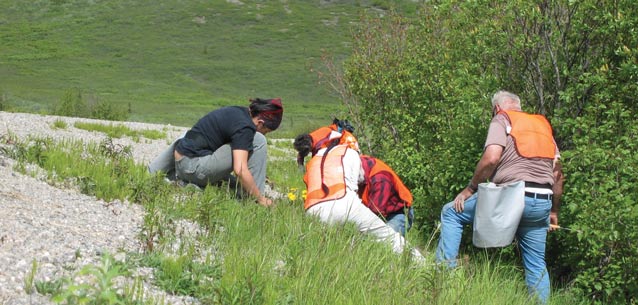 The weed-digging tool slips into the soil. The orange-vested volunteer wiggles the tool around to make sure that when she plucks up the dandelion, the entire taproot comes with it. Working on the roadside in Denali National Park and Preserve, she adds it to the bag getting heavier with the weight of non-native plants being removed. With limited time, the exotic plant volunteers divide their efforts between pulling dandelions and trying to eradicate or limit the spread of other non-native plants that are more invasive.
Non-Native Plants in Denali
Denali has relatively few non-native plant species (28), when compared with more than 760 native plant species. In contrast, many parks and other natural areas in the Lower 48 have hundreds of non-native species (e.g., Yellowstone has more than 200).

At this point, most of Denali's six million acres of wilderness are unaffected by non-native plants, because those species are found currently only in the human-disturbed footprint of the park (entrance area, road corridor, construction sites). Of the non-native species found in Denali as of 2012, some are agricultural weeds which lack the ability to invade native habitats (e.g., pineapple weed Matricaria discoidea). Others are successfully being controlled by handpulling. Thus, park managers have an opportunity to keep out these unwanted invaders and help keep native ecosystems functioning without adding exotic species to the ecological challenges posed by a changing climate.
The Nature of Invasive Plants
The non-native plants in Denali are outside their native geographic range, introduced to a new environment by people. These plants have arrived at the park inadvertently—spreading along the railroad and road corridors, clinging to the mud of cars, buses, and construction equipment, or hidden within gravel or soil deliveries for maintenance projects.

Some of the non-native plants that have arrived in Denali, or could arrive in Denali in the near future, tend to be invasive. Invasive plants grow rapidly and escape beyond where they first arrive. These plants tend to have robust vegetative growth, abundant seed production, high seed germination, and high longevity of seeds in the soil. Invasive "weeds" often crowd out native species, and may destroy food sources or habitat for native wildlife.
Denali's Exotic Plant Management Team
The National Park Service coordinates 17 Exotic Plant Management Teams (EPMT) rotating among close to 300 national parks. In Denali, the team consists of the park's invasive plant coordinator and one or more Student Conservation Association interns and they work exclusively in Denali.

Each summer, the team tracks the location and extent of infestations of invasive plants are—in or near the park—using Global Positioning System (GPS) mapping devices. The team prioritizes its work on invasive plants based on the extent of the invasion (known from the mapping) and the level of threat the invasive species poses to native species (based on an index score previously assigned to each Alaska invasive plant). Denali's EPMT operates using "early detection and rapid response," meaning that the team would try to eradicate a small patch of an invasive species with a high index score (e.g., bird vetch) before tackling a larger infestation of a less invasive species (e.g., dandelion).

Denali's EPMT controls investations in the park by hand-pulling the plants or using hand-held weed-digging tools, because most invasive plants quickly recover from being cut or mown. While chemical treatments are now allowed within the park, in such a pristine environment, chemicals are only used on a small scale to treat the most invasive plants.